January 16, 2023
Jammy Coconut Traybake
*This post may contain affiliate links. Please see my disclosure for more details!*
An easy and delicious jammy coconut traybake cake with a coconut sponge cake, your favourite jam and even more coconut on top!
So we all know this classic bake right?! It's one of the most iconic throwback style cakes that exists and I LOVE IT! Honestly, sometimes the simplest of bakes are the best and that will probably never change.
Delicious coconut sponge, raspberry jam (but obviously use your favourite!), and even more coconut on top served with a glue of custard… what more could you want?
Sponge cakes
So when it comes to sponge cakes you usually have four basic ingredients… butter, sugar, flour and eggs. Obviously, if you flavour them this changes such as cocoa powder for a chocolate cake, or in this case, coconut.
Butter – When it comes to a sponge cake, you can use actual unsalted butter (at room temp!), a baking spread, or even a margarine that has buttermilk in for good results. People debate which butter you should use, but I say trust your gut when it comes to the actual sponge.
Sugar – The sugar for a sponge is typically caster sugar. It's a finely grained sugar that is white – smaller than granulated sugar, but not as fine as icing sugar. Depending on where you are in the world, the name of this sugar may vary. For this cake I used caster sugar as I wanted a light flavour.
Flour – For a sponge you should always use self raising flour unless the recipe says otherwise. Self raising flour has a raising agent in it to help create the soft and light texture
Eggs – Eggs can vary in size, and I often use medium eggs. It's always best to weigh the eggs IN their shells in a bowl to get to the closest weight of the rest of ingredients. For example, this recipe uses 325g of flour, so I want my eggs to weigh as close to 325g as well. A little bit more of less doesn't usually matter, or you can match the weight to the eggs for best results.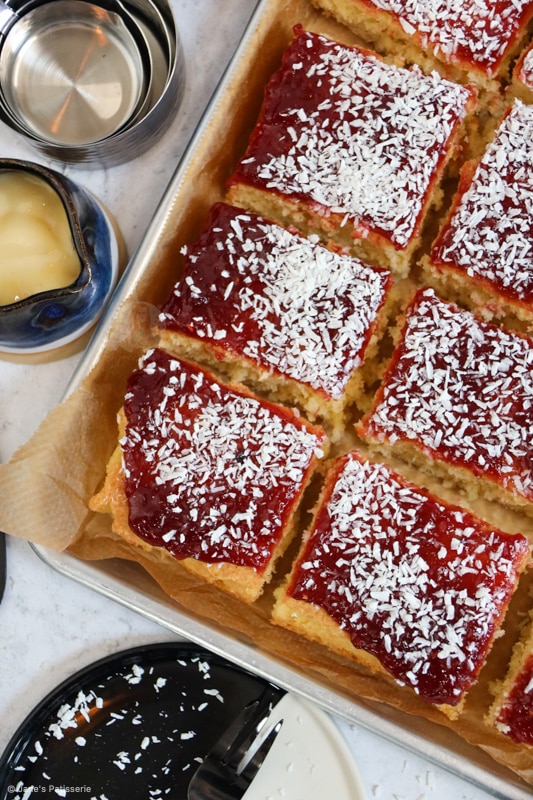 Traybake tins
When it comes to the tin, it's a big one… it's a traybake cake tin which in my mind is HUGE. However, this is part of the point. Cakes like this one, my school cake, my chocolate school cake and so on are just one layer cakes that you take a wedge of and enjoy…
I use a 9×13″ tin for my traybake cakes as it creates a good amount of slices, the ingredients themselves don't tend to cost too much as they are simpler to decorate and they are also much quicker to make and decorate.
If you wanted to make a smaller version of the cake however, you can use 2/3 of the ingredients and use a 9×9″ square tin and bake for less time.
Coconut
So, one of the main ingredients for this bake is OBVIOUSLY coconut. The easiest coconut you can use in a bake like this is desiccated coconut as it's fine, creates a beautiful flavour, and a nice texture for a coconut based bake.
To make it fit the theme enough, just as in my jammy coconut loaf cake, I used 125g of desiccated coconut in the sponge. In terms of most ingredients this doesn't sound like much, but as desiccated coconut is so light in texture, it's actually quite a lot.
You can get away with using less in the cake if you don't want the flavour to be as strong – I would say the smallest amount for a still nice flavour would be about 75g of coconut – you don't have to change anything else in the recipe.
The coconut is the same I use for decoration – I couldn't be bothered to toast it, but you can if you want.
Jam
To me the classic flavour of jam for this would be raspberry jam – I find the that flavour of the raspberry jam works wonderfully paired with the flavour of coconut n the decoration and sponge itself.
There isn't much to it other than once the cake has cooled, you want to slather on the jam and spread it as evenly as possible. You can use more or less jam, but if anything more would be better if you like it super jammy!
If you just wanted to make this a coconut cake you can leave off the jam and use the icing from the school cake to have something to stick desiccated coconut to instead of the jam.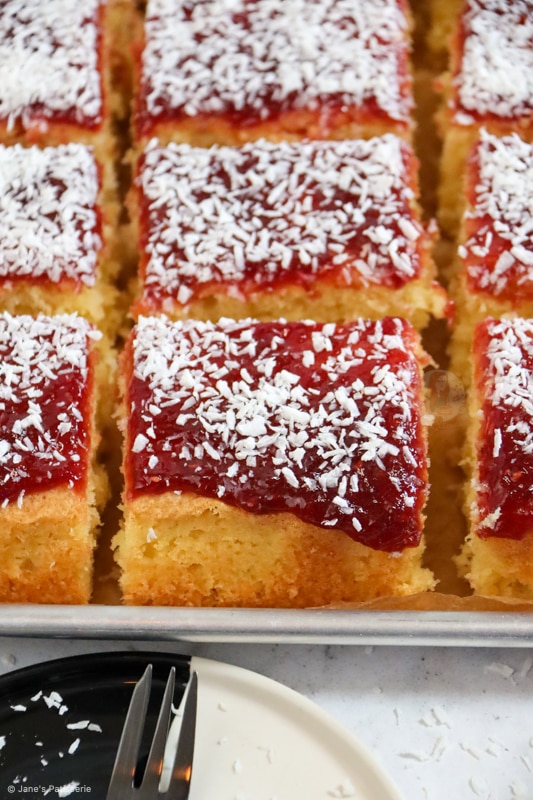 Tips and Tricks
For this recipe I used this traybake tin as I find it's the perfect size! Any 9×13″ traybake tin will work wonders.
This recipe lasts for 3-4+ days at room temp once baked, but can freeze for 3+ months
Use any flavour jam you want – I used raspberry
I serve mine with a glug of custard and it's heavenly.
Jammy Coconut Traybake!
An easy and delicious jammy coconut traybake cake with a coconut sponge cake, your favourite jam and even more coconut on top! 
Print
Pin
Rate
Ingredients
Cake
325

g

unsalted butter

325

g

caster sugar

325

g

self raising flour

6

medium

eggs

125

g

desiccated coconut
Decoration
300-400

g

jam

25

g

desiccated coconut
Instructions
For the Cake
Beat together the butter and sugar until light and fluffy.

Add in the eggs, self raising flour, and desiccated coconut and beat again until combined well. 

Pour into the tin and bake in the oven for 45-50 minutes, or until baked through. 

Once baked, let the cake cool fully in the tin.
For the Decoration
Spread the jam over the top of the cake

Sprinkle on the desiccated coconut evenly
Notes
I recommend using a 9x13" traybake tin for this recipe. 
This cake will last for 3-4 days once made. 
For a 9" square tin - I would recommend a 4 egg/200g sugar/butter/flour and 75g desiccated coconut mixture. Baked for 35 minutes!
ENJOY!
Find my other recipes on my Recipes Page!
You can find me on:
Instagram
Facebook
Pinterest
Twitter
Youtube
J x
© Jane's Patisserie. All images & content are copyright protected. Do not use my images without prior permission. If you want to republish this recipe, please re-write the recipe in your own words and credit me, or link back to this post for the recipe.