July 20, 2015
Millionaires Cupcakes!
*This post may contain affiliate links. Please see my disclosure for more details!*
Brown sugar sponges filled with a caramel sauce – topped with chocolate buttercream, and a touch of shortbread = the dream!
All things millionaires!
After posting many various millionaires recipes, I decided that this still wasn't enough. I seriously adore caramel, chocolate and shortbread, so all together this combination is my dream! My cravings got me inspired, so this time I decided to try something a little different… millionaires cupcakes!
I know you guys love it too – the love for my millionaires shortbread recipe has been insane! I also have my millionaires cookie bars, millionaires brownies, Biscoff millionaires and my millionaires cake among many others – which always go down a storm!
Millionaires cupcakes
The moist brown sugar vanilla sponge has a hidden caramel centre, topped with a light and fluffy chocolate buttercream. HELLO! I did think that maybe I should stop here, but I couldn't go on without any shortbread. Crumbles of shortbread and a whole piece top the cupcakes off. Perfection.
Sometimes, people can find that cupcakes have too much buttercream, so when I pipe my buttercream I do some with more buttercream than others so others have the choice of what they want! The shortbread in this cupcake does also help this though as I like to eat it with some of the buttercream! Too much? Never. Delicious? Yes.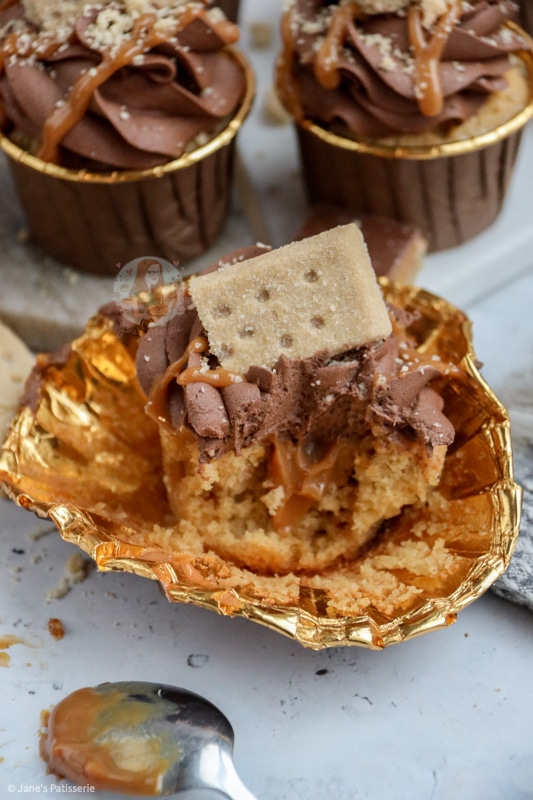 Sugar
I love to use light brown sugar in sponge recipes, as it makes it so moist and changes the flavour compared to using caster sugar. It gives a lovely almost caramel taste – perfect for bakes like these! It is SO tasty! You can of course still use caster sugar if that is what you have in the cupboard, or even dark brown soft sugar if you want a deeper flavour.
Sponge
The cupcake sponges are so simple to make, beating together the butter and sugar until light and fluffy, and then adding in the flour and eggs to create a smooth and delicious cake mixture. I used these beautiful baking cups for these cupcakes because I thought they complimented the cupcakes really well.
Hidden centre
For the centre, you can go all out and make some homemade caramel sauce if you want – it would make the cupcakes so special! However, there is absolutely nothing wrong with using a readymade caramel. I don't see why some people see using shop bought ingredients as a sin – it's there to buy for a reason!
Caramel
If I am using a shop bought caramel, I tend to use a tinned caramel, or a dulce de leche from a jar – either of them compliment the cupcakes well. The best trick and easiest trick to core out the cupcakes is to use a larger sized piping tip and just carefully push into the cupcake, twist, and pull out.
Buttercream
The buttercream is a simple chocolate buttercream made with unsalted block butter, icing sugar, and cocoa powder – you can't go wrong with it. I always beat my room temperature butter on it's own for a while, and then add in the icing sugar and cocoa powder and beat like crazy until it is smooth.
Alternative toppings!
You can of course use a different topping – such as the glorious fudge buttercream from my chocolate fudge cupcakes – the most indulgent topping EVER. Or, you could skip buttercream all together and just do a drizzle of melted chocolate! The correvt topping to me however is an extra drizzle of caramel, and either a shortbread bite, or a mini millionaires!
Baking cups and piping tips
As mentioned above, I used these beautiful baking cups because I am obsessed as always – but also used my classic favourite 2d closed star piping tip because it creates the perfect swirl on any bake ever. You can of course do what you want though – just slather on the buttercream for all it matters as it tastes the same either way!
I really hope you love these cupcakes as much as I do – they are genuinely on of my favourite cupcake recipes ever and I can't wait for you guys to give them a go! Jane x
Millionaires Cupcakes!
Brown sugar sponges filled with a caramel sauce – topped with a chocolate buttercream, and a touch of shortbread = the dream!
Print
Pin
Rate
Ingredients
Cupcakes
150

g

unsalted butter

150

g

light brown sugar

3

medium

eggs

150

g

self raising flour

1

tsp

vanilla extract
Chocolate Buttercream Frosting
150

g

unsalted butter

(room temperature)

300

g

icing sugar

30

g

cocoa powder

1-2

tbsp

boiling water
Instructions
Cupcakes
Preheat the oven to 180ºc/160ºc fan and line a 12-hole muffin tray with cases.

Beat together the unsalted butter & light brown sugar until creamy and smooth.

Add in the self raising flour, eggs & vanilla extract, and mix on a medium speed (I use my KitchenAid, but any electric mixer will do!) until combined. Try not to mix more than necessary!

Scoop the mixture into the cupcake cases (just over half full) and bake in the oven for 17-20 minutes until slightly golden on top and a skewer poked into one of them comes out clean.

Remove from the trays and leave to cool fully on a wire rack.

Once completely cooled, cut out a hole in the middle of the cupcake (like you would a butterfly cupcake!) and fill with Carnations caramel.
Chocolate Buttercream Frosting
Beat the unsalted butter with an electric mixer for a couple of minutes to loosen it, then gradually beat in the icing sugar until well combined.

Then add the cocoa powder and beat for 5 minutes until a silky lovely buttercream texture is produced. If the mixture is a little stiff, add 1 tbsp of boiling water at a time until you reach the consistency you want!
Decoration
 I used a 2D closed star nozzle to decorate my cakes, but you can do whatever you like! Add in a shortbread cookie, or crumble it over the top and enjoy!
Notes
I used a basic sponge recipe, but you can easily change the sponge to be a chocolate one as well if you're craving even more chocolate goodness.
These will last in an airtight container for 3-4 days (if they last that long!), or you can freeze them for up to 3 months!
I used pre-made shortbread as I was being particularly lazy and I had some leftover, but you can use my Shortbread Hearts to make your own if you want to!
I used these

piping bags

I used this

Medium 2D Closed Star Piping Tip

I used this

Muffin Tin

I got my baking cups from here -

Iced Jems

I use this

Vanilla extract

I recommend this spoof for portioning into the cups -

5cm scoop
ENJOY!
Find my other Recipes on my Recipes Page!
You can find me on:
Instagram
Facebook
Pinterest
Twitter
Youtube
J x
© Jane's Patisserie. All images & content are copyright protected. Do not use my images without prior permission. If you want to republish this recipe, please re-write the recipe in your own words and credit me, or link back to this post for the recipe.