July 22, 2015
Lemon Meringue Pie!
*This post may contain affiliate links. Please see my disclosure for more details!*
A twist on how to bake a classic Lemon Meringue Pie – homemade pastry, homemade lemon curd and Italian meringue = delicious.
Lemon meringue pie
Lemon meringue pie always used to be THE dessert to have whenever I went out, but the thing is, its hardly ever on the menu anymore! This makes me sad as I adore meringue, and pastry, and lemon so the answer seems obvious, I had to make it.
I admit from the start that I tried three different recipes that I found online but I couldn't get it right without a little bit going wrong, or not quite being good enough to write up in my own opinion. This led to a little bit of experimentation, some homemade lemon curd , and this beauty was born!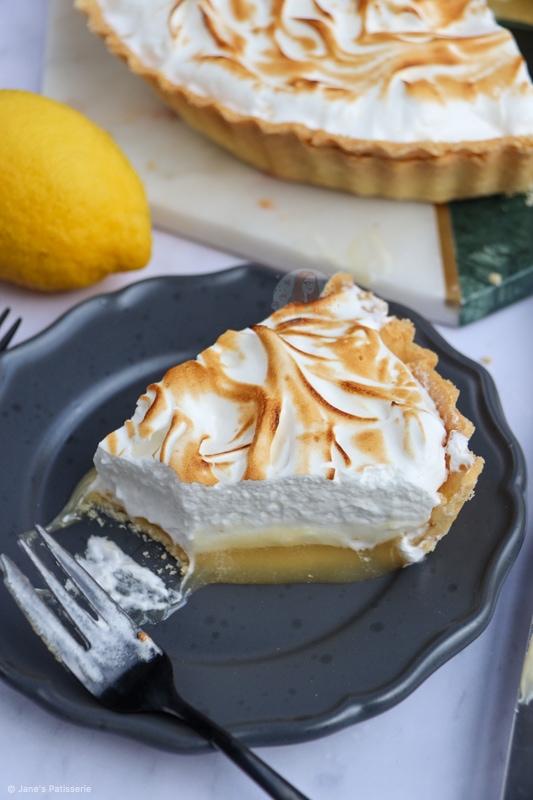 Pastry
Shortcrust pastry is one of those things that may sound absolutely terrifying to someone if they have never made pastry before, but it really is so easy to make and I 100% recommend you give it a go!
If you want to use shop bought, that is absolutely fine though – Just use a pack of shortcrust pastry, roll it out to the same thickness as per this recipe and bake in the same way!
I find it best to rub all the ingredients together and create breadcrumbs with my fingers, or you can blitz it all together in a food processor – it really is so easy! And once you crack shortcrust pastry you can make so many more absolutely delicious treats!
Lemon Curd
As much as all parts of the lemon meringue pie are important, lemon is the first word in the title right?! It's just the balance of flavours that it brings that I am utterly obsessed with.
I make my own lemon curd as you can see, and it's 100% worth it – but if you don't want to make your own you can use shop bought (it might just be slightly softer set is all!). If you use shop bought, use a 350-400g jar!
The good thing about a homemade curd like this, is that you can just whack all the ingredients together, whisk it all up, and microwave it. It works SO WELL in the microwave, I can rarely be bothered to do it in the correct way any more (although I did for this). It does seem to take an absolute age when doing in the microwave when you make a higher quantity, but simply microwave on full power for minute intervals until it noticeably starts to thicken up every time you stir.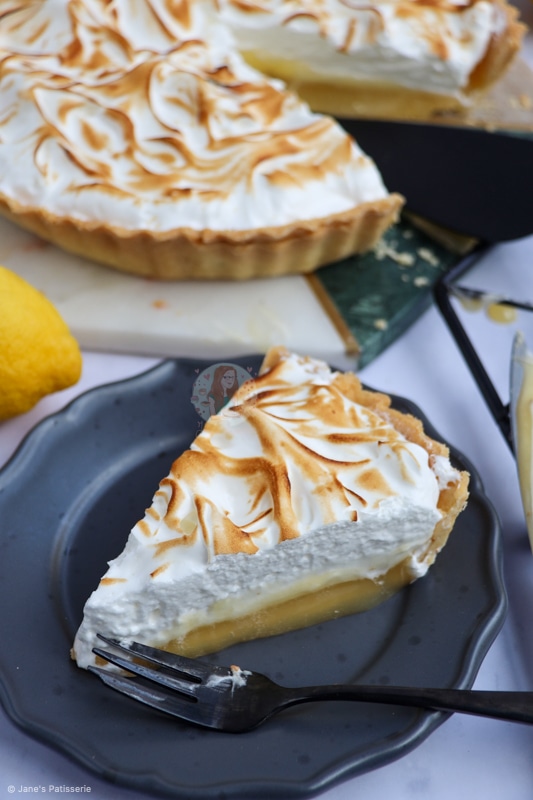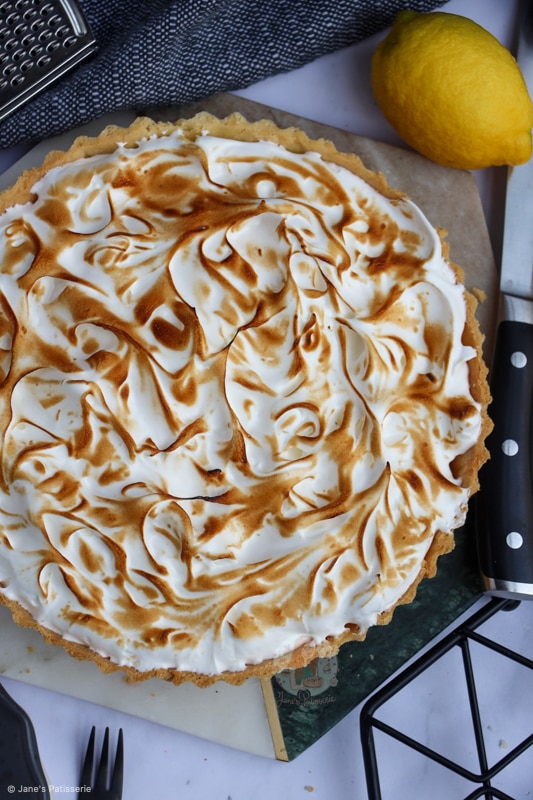 Meringue
My parents have always been a bit funny about meringue that isn't baked entirely in an oven because of the potential of it being raw eggs and such, so this led me to make an italian meringue!
I'm not saying the eggs are 100% cooked, but they are more stable, more cooked, and better than a normal meringue in my opinion! I used the Meringue Girls italian meringue method as I wanted to make sure that it was correct and would work – and it did! Surprisingly easy, and so delicious!
I really do recommend using a thermometer to make sure that this recipe works – italian meringue isn't the easiest as it really is based on that temp. However, once you crack it, it is THE BEST!
If you don't want to or don't feel confident enough to make an italian meringue then you can do a normal meringue using the 4 egg whites, and 200g of caster sugar and mix like you would a normal meringue – blowtorch or flash under the grill in the same way as above to brown! When pouring the sugar syrup onto the egg whites try to do this at the edge of the bowl so the heat isn't going directly into the largest part of the egg white mixture.
Dessert recipes
I have many dessert recipes on my blog, but this one (I can't lie) is up there with my favourites and I hope it will be for you guys too – just like my After Eight tart, sticky toffee pudding, lemon posset tart, and my Creme Egg fondants!
Tips and tricks!
I decided after my fails, and the utter deliciousness of my lemon curd, that I would try and make this easier for everyone, including myself! You could use an already baked pastry case from the supermarket, or make your own… you could use some shop bought lemon curd, or make your own… make a normal meringue, or an italian meringue! Its entirely up to you!
This delicious dessert can be stored in the fridge, and is a lot more likely to work as you're not have to bake the lemon separately, or even the meringue! (Plus – I think blowtorched meringue looks pretty!)
Such a classic, well-loved dessert, I felt I needed to have this on my blog for you all, so ta daa! My super easy, super delicious lemon meringue pie – a show stopper and absolute crowd pleaser!
Lemon Meringue Pie!
A twist on how to bake a classic Lemon Meringue Pie – delicious.
Print
Pin
Rate
Ingredients
Pastry Base
175

g

plain flour

(plus extra for dusting)

100

g

unsalted butter

(cold, diced, plus extra for greasing)

1

tbsp

icing sugar

1

egg

yolk
Lemon Filling
Zest of

3

lemons

Juice of

3

lemons

85

g

unsalted butter

175

g

caster sugar

2

medium

eggs

2

egg yolks
Italian Meringue Topping
225

g

granulated sugar

6

tbsp

water

120

g

egg whites

(roughly 4 medium eggs)
Instructions
Pastry Base
Sift the plain flour, icing sugar, and add the diced, cold unsalted butter, egg yolk, and 1tbsp of cold water into a food processor.

Blitz quickly on the pulse setting until the mixture starts to bind, it shouldn't take too long at all!

Grease & flour a tart/pie/flan tin (I use a loose bottomed one).

Roll the pastry mix out onto a lightly floured surface to the thickness of 1-2 £1 coin(s).

Press the pastry into your tin and trim/neaten the edges. Fill any gaps with excess pastry so it's completely covered! Refrigerate for 1/2 an hour!

Refrigerate for 30 minutes.

Preheat the oven to 200ºC/180ºC fan.

Cover the pastry with baking parchment and fill with baking beans/rice and bake the pastry 'blind' for 15 minutes.

Remove the parchment and beans/rice, and bake for an extra 5 minutes or until the pastry is cooked through and turning golden! Then leave to cool in the tin.
Lemon Filling
Put the lemon juice, zest, utter, and sugar into a large bowl. Set the bowl over a pan of simmering water (not boiling water!!) and stir the mixture occasionally till the butter has melted!

Beat the egg and egg yolks together in a separate bowl so they're combined well, and then pour into the lemon mix.

Whisk all of the ingredients together so that they are combined well and whisk continually in the heatproof bowl for 10-14 minutes. It will be able to coat the back of a spoon when done.

Leave to go cold in the fridge whilst you make the meringue!
Italian Meringue Topping
Pour the granulated sugar and the water into a heavy-based saucepan and bring to boil, stirring occasionally with a wooden spoon.

When the mixture starts to boil, monitor the temperature until it reaches 120ºC (Firm Ball Stage) with a sugar thermometer!

When the mixture is heating up and boiling, if any sugar splashes up the side of the pan, brush the sides with a pastry brush and cold water to get rid of it. (this will stop the mixture crystallising and messing up!)

Whilst the sugar syrup is getting towards the temperature, whisk the egg whites into stiff peaks in a spotlessly clean bowl - I seriously recommend using an electric stand mixer as it'll make it easier as if you're doing it by hand you will need two people and a steady hand! 

When the sugar syrup has reached the temperature and the egg whites are at stiff peaks start to pour the sugar syrup onto the egg whites at the edge of the bowl whilst still whisking - make sure you do this slowly so it's a constant trickle of sugar syrup and the egg whites stay smooth!

Continue to whisk throughout whilst the sugar syrup is pouring in, and after its all whisked in continue to whisk the mixture fast and on a high speed for 5-7 minutes until the mixture is smooth, and has cooled down.

Dollop onto the lemon filling/pastry, and blowtorch lightly, or flash under a hot grill to brown the edges of the meringue!
Notes
*Take a look here for my Homemade Lemon Curd Recipe!

You can also use pre-made sweet shortcrust pastry instead of making your own - grease & flour the tin as said above and line with the pastry - bake in the same way as written above!

This will last in the fridge for 2 days!
I used this

Tart Tin

I used this thermometer
I used this blowtorch 
ENJOY!
Find my other Recipes on my Recipes Page!
You can find me on:
Instagram
Facebook
Pinterest
Twitter
Youtube
J x
© Jane's Patisserie. All images & content are copyright protected. Do not use my images without prior permission. If you want to republish this recipe, please re-write the recipe in your own words and credit me, or link back to this post for the recipe.