July 31, 2017
Lemon and Raspberry Cupcakes!
*This post may contain affiliate links. Please see my disclosure for more details!*
Lemon cupcakes with a raspberry jam centre, and swirled lemon and raspberry buttercream. My new favourite summery lemon and raspberry cupcakes!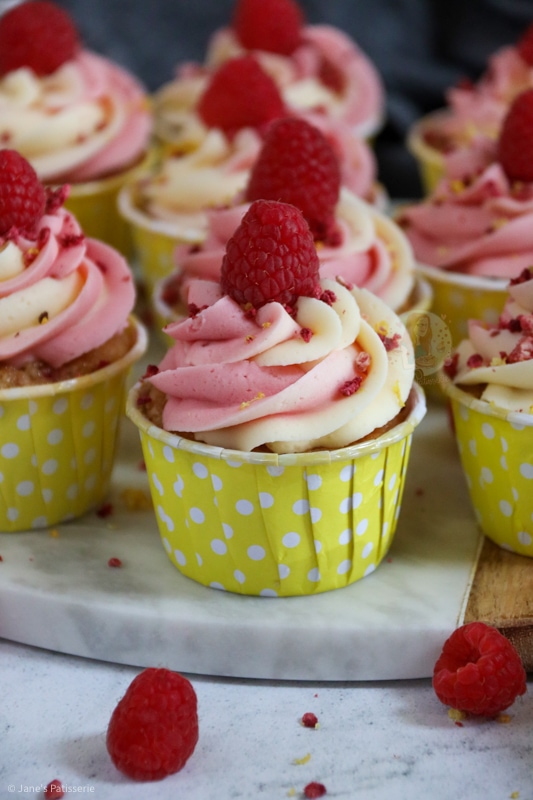 So recently I was asked to bake a few cupcakes for work, and I was a little stuck for ideas. It seems ironic, as I have so many on my blog… but I just couldn't decide what flavours to bake! When I was buying the ingredients, I bought lemons as I thought lemon would be the best choice (if potentially boring to some) but when I strolled past the freeze dried raspberries, I thought… YES. yesssssss. Lemon AND raspberry cupcakes!
I am questioning to myself why I have never thought to do these before, because I have regularly made cake versions, or loaf cake versions, but honestly… one of my new favourite cupcake flavours now exist in my world.
Lemon Bakes
Now we all know that lemon bakes are some of the most iconic and classic bakes that you will find in bakeries, cafes, coffee shops and so on… so making them at home is even better. My lemon drizzle cheesecake is one of my favourites, along with my lemon celebration cake.
Combining lemon with other fruits is always delicious, such as with my lemon & blueberry sweet rolls. However, in cake form, it is just that much better. It's so fresh, and somehow you feel less guilty about eating cake when its so fruity.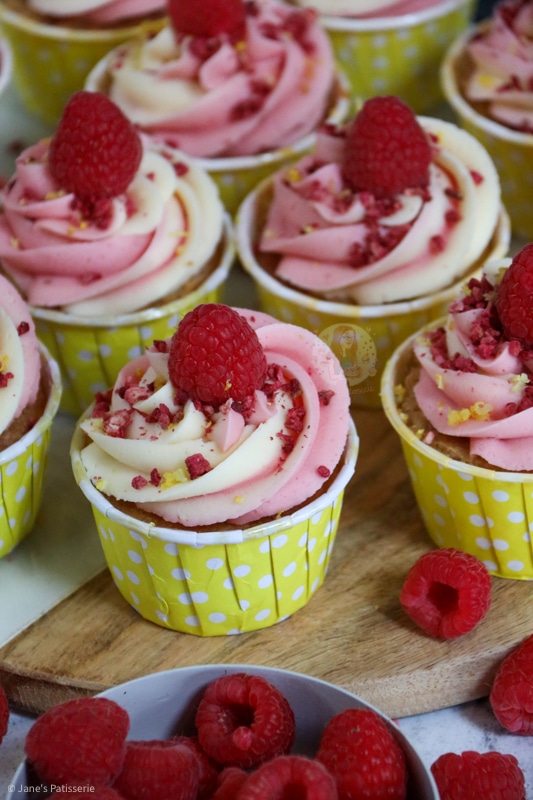 Raspberry Bakes
Just like lemon bakes, raspberry recipes are utterly delicious and I want to eat them all. My white chocolate raspberry tart is super popular and is so easy to make, and my raspberry crumble bars are a delicious traybake that I can't stop making over and over.
I will admit though, the lemon and raspberry combination is why I am so obsessed with all things raspberry. It's just such a good combination that I always want to make over and over. My lemon & raspberry cheesecakes and my lemon raspberry cake are some of my favourites. The tart flavour of the raspberry helps cut through the zesty lemon and it's just splendid.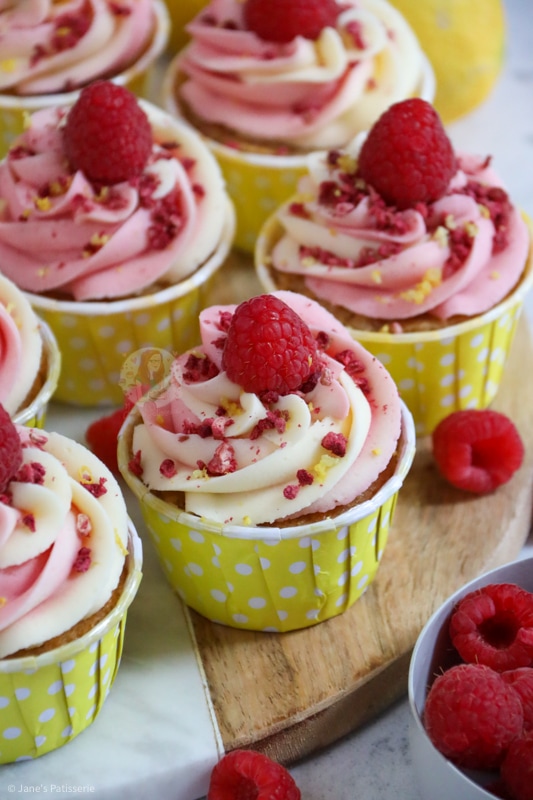 Cupcakes
The cupcakes themselves are super easy to make, with a few extra ingredients because of the fruity delicious flavour…
Butter – I tend to use a baking spread when it comes to the sponge of a cake as I find it makes a nice and light sponge
Sugar – I used caster sugar as it's a classic and works well for lighter coloured sponges like these
Flour – self raising as always.. you can make your own though by mixing 2 level tsps of baking powder per 150g of plain flour before using
Eggs – I use medium, so used 3
Lemon – I used the zest of an actual lemon, but you can easily use 1tsp lemon extract if you don't want to buy lemons
Raspberry – I originally used freeze dried raspberries for these, but switched it up to fresh raspberries – both work well though.
Frosting
To jazz these up slightly I did decide that swirling together raspberry buttercream with lemon buttercream would give it the show it needed, along with representing that its double flavoured.
Butter – as this is for buttercream, you really do need to use block butter and not a baking spread or margarine
Sugar – icing sugar as always guys!
Lemon – you can either use lemon juice, or lemon extract – lemon extract would be stronger in flavour
Raspberry – I used a little raspberry jam to flavour it, but it's not a super strong flavour (but it is in the centre of the cupcake so it's fine!)
Colours – I used a pink colour to help colour the frosting a little more raspberry and let the lemon as it was.
Decoration
I decided to take these even more to the next level by coring ou the middle of the cupcake slightly and adding in some raspberry jam – this is of course optional, but it's just even more flavour.
To create the swirly buttercream frosting, I got a large piece of clingfilm and put it onto my work surface. I lined the two frostings next to each other in the middle of the cling film, wrapped it up into a sausage, and then cut the end off. Put it into a piping bag with your favourite piping tip and you have dual colour frosting.
I piped the buttercream onto the cupcakes, sprinkled on some freeze dried raspberries, lemon zest and added a fresh raspberry and they were done! I do think they're super pretty cupcakes, as well as being utterly scrumptious.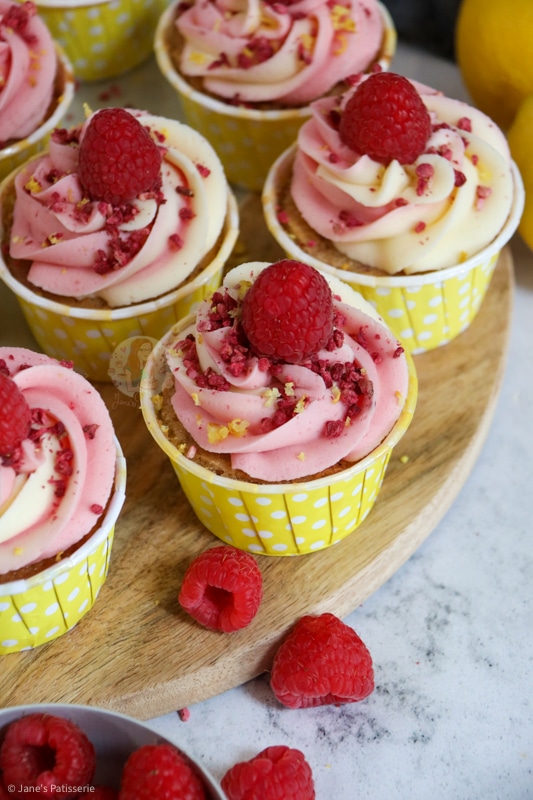 Tips & Tricks
Lemon & Raspberry Cupcakes!
Lemon cupcakes with a raspberry jam centre, and swirled lemon and raspberry buttercream. My new favourite summery lemon and raspberry cupcakes!
Print
Pin
Rate
Ingredients
Cupcakes
150

g

unsalted butter/baking spread

150

g

caster sugar

3

medium

eggs

150

g

self raising flour

Zest of

1

lemon

150

g

raspberries

(optional)
Lemon/Raspberry Buttercream
150

g

unsalted butter

(room temp)

350

g

icing sugar

1-2

tbsp

lemon juice

(or lemon extract)

1

tbsp

raspberry jam

pink food colouring
Decoration
raspberry jam

lemon zest

raspberries
Instructions
Preheat your oven to 180ºc/160ºcfan and prep 12 cupcakes cases

Add the butter and sugar to a bowl and mix to combine

Add the eggs, flour and lemon zest and mix again

Pour the raspberries into the mix if you're using them and gently mix them through.

Spoon your cupcake mix into your cases and bake in the oven for 20 minutes or until cooked through. Leave to cool on a wire rack.

Beat the room temperature butter until smooth

Add the icing sugar and mix again until combined

Split the frosting between two bowls. Add the lemon to one, and beat. Add the raspberry jam, and a little pink food colouring to the other and beat.

Once both buttercreams are combined, line the two frostings next to each other on a large piece of clingfilm.

Roll this up into a sausage, snip off the end, and to a piping bag with your favourite piping tip.

Hollow out some of the cupcake, and then spoon in a little raspberry jam.

Pipe the frosting on top however you like and decorate with freeze dried raspberries, lemon zest and fresh raspberries
ENJOY!
Find my other recipes on my Recipes Page!
You can find me on:
Instagram
Facebook
Pinterest
Twitter
Youtube
J x
© Jane's Patisserie. All images & content are copyright protected. Do not use my images without prior permission. If you want to republish this recipe, please re-write the recipe in your own words and credit me, or link back to this post for the recipe.
SaveSave