March 22, 2018
Easter Piñata Cake!
*This post may contain affiliate links. Please see my disclosure for more details!*
A Four Layer Chocolate Cake with Peach Coloured Vanilla Buttercream and Oodles of Hidden Easter Treats! A Delicious Easter Piñata Cake!
So, after posting several Easter recipes already this year, and many last year, I couldn't resist posting another showstopper. My Mini Egg Drip Cake and Easter Chocolate Cake are already big cakes full of Easter goodness, but I realised I have never posted a Piñata Cake… so that had to happen. And it had to be full of Easter treats.
I knew from the start that I wanted to make this a chocolate cake, but not a chocolate fudge cake. I know that not everyone wants to go through the faff of making a chocolate fudge cake-like in my Easter Chocolate Cake, so I used a simple Chocolate Victoria sponge style sponge, but with light brown sugar as it's my favourite for all things chocolate cake these days.
I thought as my Easter Chocolate Cake was chocolate cake on chocolate icing, and my Mini Egg Drip Cake is vanilla cake with vanilla frosting, that this should have vanilla frosting as well. Making it different enough to get away with posting it and all, and because I like how you can make vanilla frosting any colour you like.
I was originally going to go for a duck egg style blue or something like a purple, but I thought peach would be nice and simple. Also, I couldn't find my other food colours… but that's beside the point! The colouring is entirely optional though. This is the peach colouring that I use if it helps!
For the sponges, I used two of these beautiful PME cake tins – and I am obsessed with them. Because this is a four-layer cake, but baked into two sponges.. they work perfectly!
I use this beautiful Scraper for this cake, and my drip cakes, and it makes it so much easier and neater. I always use my trusty 2D Closed Star Piping Tip to decorate as well because it makes glorious little swirls, and then top it with one of my favourite sprinkles from Iced Jems!
I thought Mini Eggs represent Easter really well because they're so recognisable. I have however made these cakes several times with different insides. Maltesers, Smarties, buttons, and even gummy sweets, but I just think Easter treats look SO GOOD.
As Easter chocolates are so good these days I used a combination of literally all of the ones I could buy at the time, but it's all optional. It's best to use things of a similar size to these as you when you cut the cake you want to have enough for every person to eat!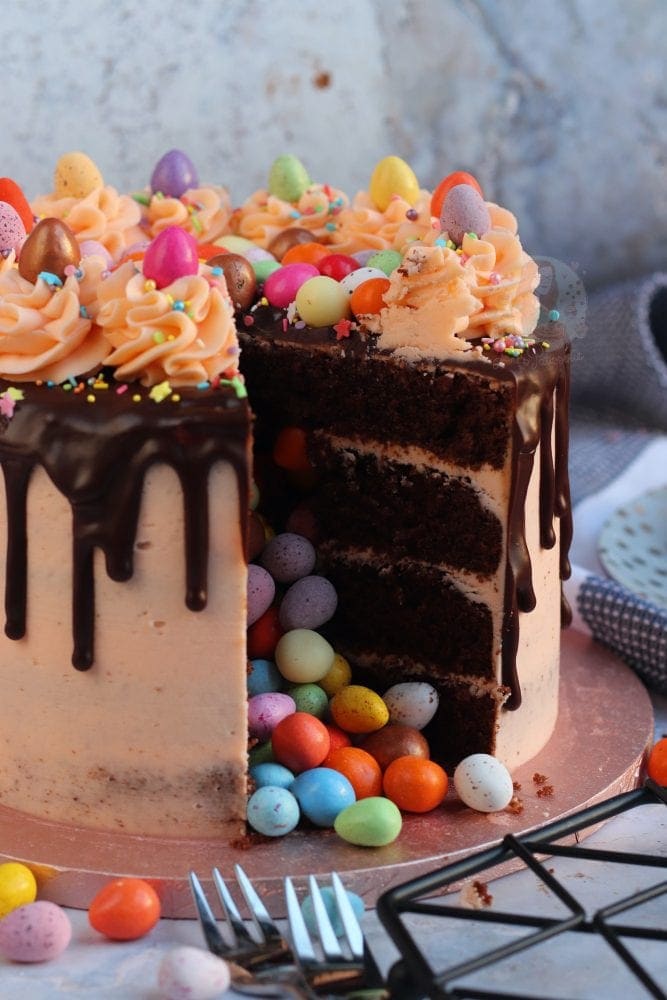 I literally ADORE Piñata Cakes because they just look amazing. People of all ages love them as well because it's just a simple surprise. I just love that it looks like a simple and delicious cake either way but as you cut into them you get a cascade of SO MUCH CHOCOLATE and yeah well YUMMY.
But yeah, I hope you love this recipe as much as I did, and my trusty taste testers did! Enjoy! X
Easter Piñata Cake!
A Four Layer Chocolate Cake with Peach Coloured Vanilla Buttercream and Oodles of Hidden Easter Treats! A Delicious Easter Piñata Cake!
Print
Pin
Rate
Ingredients
Cake Ingredients
500

g

Unsalted Butter/Stork

500

g

Light Brown Sugar

425

g

Self Raising Flour

75

g

Cocoa Powder

10

Medium

Eggs
Buttercream Ingredients
350

g

Unsalted Butter

(room temp)

700

g

Icing Sugar

1

tsp

Vanilla Extract

Food Colouring
Piñata
400

g

Chocolate Eggs

(Mini Eggs/Smartie Eggs/etc)
Decoration
50

g

Milk Chocolate

50

g

Dark Chocolate

100

ml

Double Cream

100-200

g

Chocolate Eggs

(Mini Eggs/Smartie Eggs/etc)

Sprinkles
Instructions
For the Cake!
Heat the oven to 160C/140C Fan and line two DEEP 20cm/8inch cake tins with baking parchment – leave to the side.


In a stand mixer, beat together the butter and sugar until light and fluffy. Add in the flour, cocoa powder and eggs and beat again briefly till combined – try not to overbeat! 

Divide the mixture between the two tins and smooth it over – bake for 60-70 minutes (Check after 50 minutes if your oven runs hot, can take longer) until the cake is golden and when the cake springs back (the skewer should also come out clean)

Once baked, leave the cake to cool in the tin for 10 minutes, and then remove and leave to cool fully on a wire rack.

For the Decoration!
In a stand mixer, beat the butter with an electric mixer until it is smooth and loose and then beat in the icing sugar 1/3 at a time until its fully combined.

Add in the food colouring and vanilla - Keep beating the buttercream for 5-6 minutes on a medium speed so it starts to get fluffier and lighter. If too thick, add one tablespoon of boiling water at a time till its smooth enough.


Once the cake is cooled, I level them off so that they are flat, and then divide the cakes into two – so I end up with 4 layers. On three of the four layers, cut out a hole using a 6 or 7cm cutter in the middle of the cake.


With the first layer of the cake, spread some of the buttercream onto the top of the first layer (basically on the sponge you can see, not where the hole is). Only use about 1-2 tbsp of buttercream per layer so that you have enough to decorate with!


Add the second layer on and repeat, and the third layer and repeat. Once you've used the three layers with the holes, fill in the hole with the Chocolate Egg sweets. I used a mixture of all different Easter Chocolate eggs. Make sure it's quite compact but don't go crazy!

Add the fourth (And complete) layer on top so the hidden sweets are covered and sealed in. Buttercream round the edges and sides so the cake is covered - I went for the Naked effect so scraped it away so part sponge, part buttercream was the outside.

Let the cake sit in the fridge for 30 minutes or so to firm up.

Add your milk and dark chocolate to a bowl, and pour over the cream.

Heat till melted - I microwave the mix for 30 seconds, and stir well. Then I heat for 10-second bursts till smooth!

Pipe around the edge of the cake, and cover the top! Let the cake sit in the fridge for 30 minutes or so to firm up again.

Pipe on any leftover buttercream, and decorate with some extra chocolate eggs and some sprinkles!
Notes
As its for easter, I made my buttercream a peachy colour, but you could easily dye the frosting a pale shade of pink, blue, etc – add in a little of whatever colouring as you're whipping the frosting up!
I bake the cake at 140C In my oven as its a deeper cake, and it makes it bake flat. It also tends to stay moister. If you're in a rush you can bake it at the usual temperatures, but adjust the baking time accordingly.
This cake will last in an airtight container for 3 days, at room temperature.
Nibble on the offcuts of the 3/4 layers whilst decorating - best fuel for decorating. 
You can use whatever chocolatey filling you like, even just regular stuff not even Easter treats!
This recipe was updated March 2020

The original cake recipe used 450g butter and sugar, 325g flour, 75g cocoa powder and 7-8 Large eggs. 
The original didn't feature a drip, but everything else is the same. 
ENJOY!
Find my other Cake & Easter Recipes on my Recipes Page!
You can find me on:
Instagram
Facebook
Pinterest
Twitter
Youtube
J x
© Jane's Patisserie. All images & content are copyright protected. Do not use my images without prior permission. If you want to republish this recipe, please re-write the recipe in your own words and credit me, or link back to this post for the recipe.