March 28, 2020
Easter Blondies!
*This post may contain affiliate links. Please see my disclosure for more details!*
Fudgey, gooey and delicious Easter blondies full of all your favourite Easter chocolates!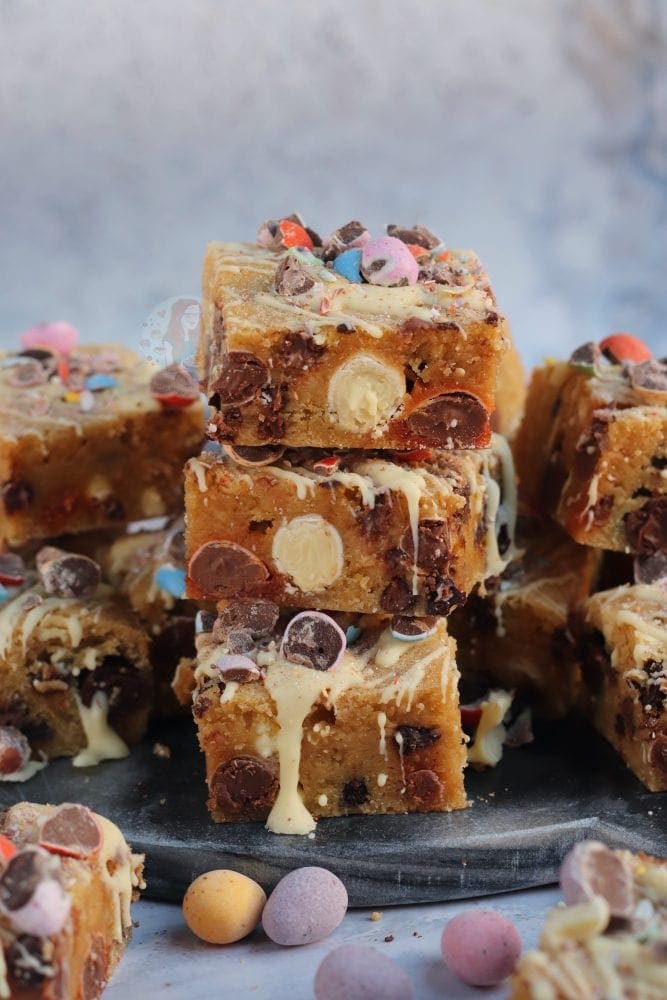 Easter baking
So it's not really that long until Easter now, but I just can't resist baking even more goodies! Like honestly… I am obsessed with all things Easter. How can I not be?! YUM.
So, I already have my Easter brownies, and they're one of my favourite traybakes I've ever done. They are full to the brim of different Easter chocolates, and I am happy about that!
Blondies
However, I wanted to do something a little different this year, and stick to my new found love for blondies! And HELLO THERE these are delicious.
If you are not aware or aren't sure.. a blondie is essentially a non-chocolate version (or blonde in colour) version of brownies. They're sometimes made with white chocolate in the batter, but often not like mine!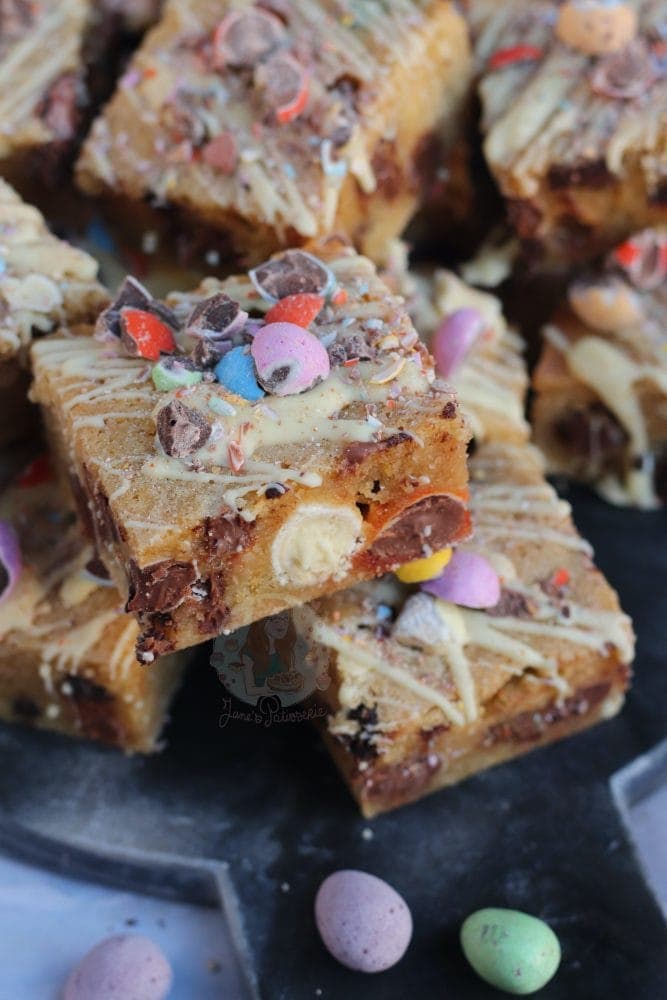 Blondies vs cookie bars
I will say this as well, but blondies and cookie bars are NOT THE SAME THINGS. They're not even slightly the thing, so please stop thinking that. Cookie bars are just cookies made into a traybake. Blondies are as explained above.
My Easter blondies
I have a few different versions of blondies on my blog, and I love them all. For example, my white chocolate & raspberry blondies are one of my favourites, but they have a different method. These beauties are similar to my white chocolate caramel blondies.
I essentially wanted these to literally be the blondie version of my Easter brownies, and they definitely are! They're packed full of random Easter Chocolates (you can obviously pick your favourites) and drizzled with white chocolate.
Easter chocolate
I genuinely went to the supermarket and just bought all the types of Easter Chocolate I could find, and then whacked them in this. You can use all of one flavour, or use anything as I did. I love having different chocolates to bite on in each piece!
Bake and set
When baking blondies, you have to be careful not to over bake them. They really don't take much mixing either, so try to not over-do it there. I bake mine until there is a slight wobble, leave them to cool fully in the tin and then pop them in the fridge overnight to set.
Decoration
Once they've cooled, you can decorate them, and then cut them, or cut them and then decorate. I went with a drizzle of white chocolate and added some more Easter chocolate goodness but this is optional – with your blondies the choice is all yours! Enjoy! X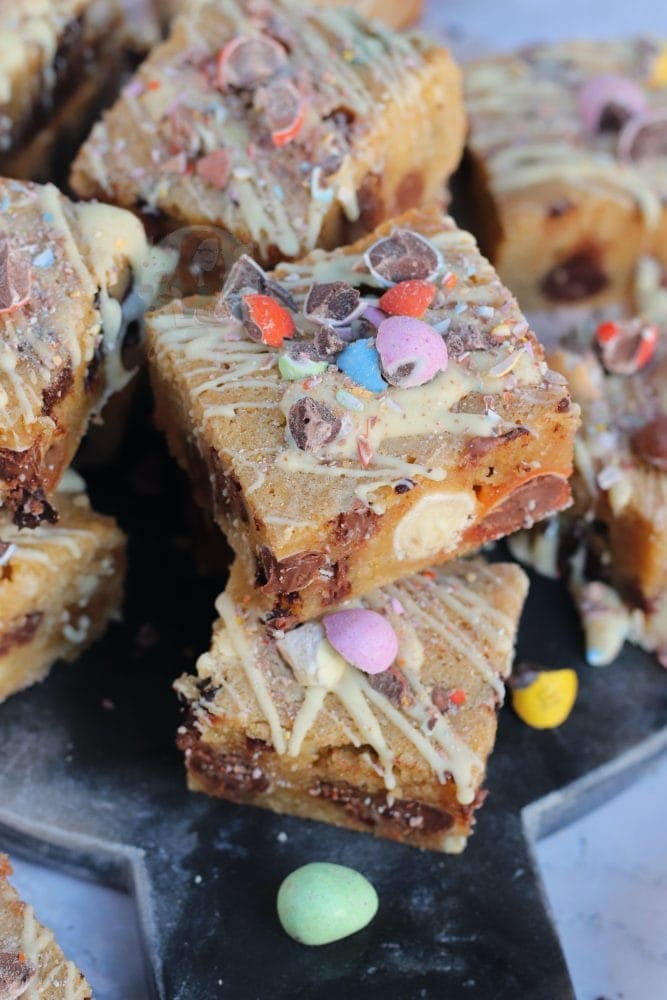 Easter Blondies!
Fudgey, gooey and delicious Easter blondies full of all your favourite Easter chocolates!
Print
Pin
Rate
Ingredients
200

g

unsalted butter (melted)

(see notes below)

125

g

white granulated sugar

125

g

light brown sugar

3

medium

eggs

275

g

plain flour

1

tbsp

cornflour

150

g

white chocolate chips

300

g

Easter chocolates
Optional Decoration
75

g

white chocolate

(melted)

Crushed Easter chocolates
Instructions
Preheat your oven to 180C/160C Fan and line a 9x9" square tin with parchment paper.

In a large bowl, add your melted butter and sugars and whisk until smooth. I beat mine for several minutes, and it starts to lighten the mixture.

Add in the eggs and beat again until smooth.

Add in the flour and cornflour and beat till a thick blondie mixture is made - it really doesn't take long to create this mixture!

Add in your white chocolate and Easter chocolates and fold through!

Pour the mixture into the tin, and spread.

Bake the blondies in the oven for 25+ minutes, until there is an ever so slight wobble in the middle.

Leave too cool in the tin. Then leave in the fridge overnight to set

Once cooled - decorate if you want.

Drizzle over the white chocolate and add some crushed Easter chocolates!

Can be easier if you set them in the fridge, to make it easier to cut.
Notes
I've updated the butter quanitity to be 200g rather than 250g as it was occasionally being greasy for readers - if you liked it at the 250g quantitiy you can still use it!
PLEASE USE CORNFLOUR. If you can't, increase the flour by 25g, but the texture will be slightly different.
They can take upwards of 40+ minutes in some ovens, due to using different ingredients, different ovens, different mixing methods and so on. 
If they turn out cakey, they are over baked - that's all! Bake for a little less time next time.
If they are a little soft, put them in the fridge before cutting and they will firm up. Once they've been in the oven for 25+ minutes, they will be safe to eat even if a little gooey. 
These will last in a cake tin for 4-5 days+ 
I keep them at room temperature once they have been cut. 
The decoration is optional! 
You can use any easter chocolates you fancy - but ones with runny fillings can make them bake differently. 
I used a mixture of Mini Eggs, Smartie eggs, Milkybar Eggs, galaxy eggs, M&M eggs, Terry's eggs. 
ENJOY!
Find my other Recipes on my Recipes Page!
Instagram
Facebook
Pinterest
Twitter
Youtube
J x
© Jane's Patisserie. All images & content are copyright protected. Do not use my images without prior permission. If you want to republish this recipe, please re-write the recipe in your own words and credit me, or link back to this post for the recipe.