July 27, 2019
White Chocolate & Caramel Blondies!
*This post may contain affiliate links. Please see my disclosure for more details!*
Easy and delicious white chocolate & caramel blondies with caramel sauce and white chocolate chips!
White chocolate and caramel blondies
So, a very long time ago I had a caramel white chocolate blondie recipe on my blog. It was something that I liked to bake, but it was probably the worst recipe on my blog, ever. I can comfortably say that, as more often than not, it didn't work for other people.
I never tended to personally have an issue with it, but maybe my explanation was off, or I was doing something extra without realising… but who knows. Either way, I binned the recipe off, and started again. Definitely better to fix it, rather than let people waste ingredients!
Blondie experimentation
I do get requests for the recipe to come back often, but I won't post the original one (partly because I can't remember it now) and partly because I would much rather post a brand new version, that I have tested countless times, and I know works well!
These beauties were born from all of the experimentation. One thing I will say though… they are different to my other blondies such as my white chocolate & raspberry blondies, and my white chocolate & pistachio blondies. This isn't because I dislike my other blondies, I love them, I just found this mixture works much better with the caramel because otherwise it'll just vanish to the bottom.
Caramel
The caramel is the tricky bit for the recipe, because whenever you bake with anything with caramel in, the caramel can explode, start boiling, and essentially ruin a recipe. I have tried countless times to get this bit right, and it finally works!
My mind always thought that maybe the people who made the original blondies used a different caramel to me (As they can often behave differently), but we will never know! For this one, as the blondie recipe itself is so different, it's easier!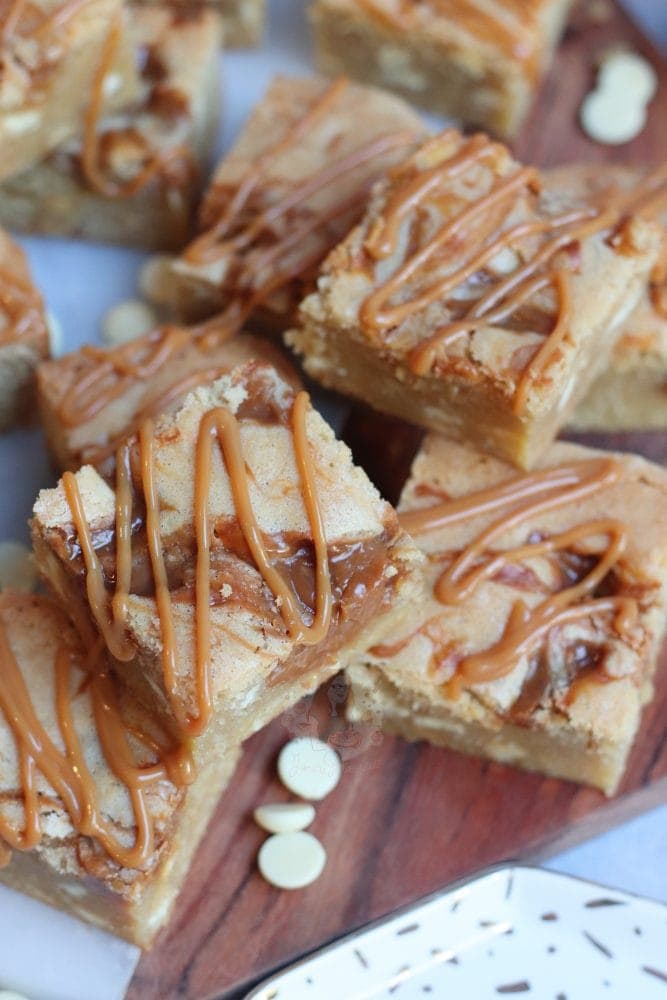 Cookie bars vs blondies
Recently I had someone ask what the difference between cookie bars and blondies were as they thought they looked the same. I get that the bake can sometimes look similar, but the recipes are completely different!
Cookie bars are literally just a cookie dough mixture, baked into a traybake instead of individual cookies. Blondies, are brownies but without the dark or milk chocolate. For these, you don't actually use any chocolate which automatically makes them blonde in colour!
Some people will be pedantic and say 'they're still brownies' but they are in fact very delicious and sweet blondies. That are incredible, and something not to be messed with! Yum.
Flavour
Anyway… instead of going overboard with the caramel like I may have done before – I decided to stick to a limit of 150g of caramel in the recipe. Too much, and it definitely doesn't work. I've tried solid toffee style sweets, and they just melt and explode… and freezing caramel sauce balls doesn't seem to work either.
Therefore, I just went for making the blondie with white chocolate chips, and then swirling through the caramel on the top. It gives the blondies a pretty pattern, and also gives you just enough caramel so as not to ruin them, but so you can taste it.
Bake
If your blondies are in the oven for far longer than the time says (you may have over mixed or your oven was the wrong temperature) then it may still go a little crazy, but I found it perfect.
I always bake my blondies until there is a slight wobble in the middle. I then take them out the oven, leave them to cool and then 'set' them in the fridge. In order to get a good set on a blondie, you must keep them in the fridge for at least 2 hours however I prefer leaving mine overnight for the best texture!
More blondies
They are deeeelicious and I am slightly obsessed. I have many more on my blog, both fruity and chocolatey flavours! I really recommend checking out my Jammie Dodger blondies, lemon and blueberry blondies but also my delicious white chocolate blondies and Rolo blondies are HEAVEN!
I have more blondie recipes coming soon because of the obsession. I have tested these bad boys many a time now, so I hope you love this new and improved recipe as much as I do! Enjoy! X
White Chocolate & Caramel Blondies!
Easy and delicious white chocolate & caramel blondies with caramel sauce and white chocolate chips!
Print
Pin
Rate
Ingredients
200

g

unsalted butter (melted)

(see notes below)

125

g

white granulated sugar

125

g

light brown sugar

3

medium

eggs

275

g

plain flour

1

tbsp

cornflour

200

g

white chocolate chips

150

g

thick caramel sauce
Instructions
Preheat your oven to 180C/160C Fan and line a 9x9" square tin with parchment paper.

In a large bowl, add your melted butter and sugars and beat until smooth.

Add in the eggs and beat again until smooth.

Add in the flour and cornflour and beat until a thick blondie mixture is made - it really doesn't take long to create this mixture!

Add in your white chocolate and fold through!

Pour the mixture into the tin, and spread. Dollop on the caramel, and lightly swirly through the blondie mixture.

Bake the blondies in the oven for 30 minutes, or until there is an ever so slight wobble in the middle. (See notes below)

Leave to cool in the tin. Drizzle over some extra caramel if you fancy!
Notes
I've updated the butter quanitity to be 200g rather than 250g as it was occasionally being greasy for readers - if you liked it at the 250g quantitiy you can still use it!
The bake time can vary - please make sure your oven is on the correct setting, and check from 25+minutes and onwards till they are baked! These took 30 minutes in my fan oven. 
If they turn out cakey, they are over baked - that's all! Bake for a little less time next time.
One good tip if you aren't sure is to bake them till they have the wobble, and then once cooled, put them in the fridge for at least an hour to help 'set' them before cutting up! 
These will last in a cake tin for 4-5 days+ 
I keep them at room temperature. 
I used Carnations caramel for the caramel - but do NOT add more than 150g to the mix unless you are 100% sure you've got the blondie mix right. If you add too much, it probably won't bake very well at all. 
The drizzle of caramel on top is completely optional!
ENJOY!
Find my other Recipes on my Recipes Page!
You can find me on:
Instagram
Facebook
Pinterest
Twitter
Youtube
J x
© Jane's Patisserie. All images & content are copyright protected. Do not use my images without prior permission. If you want to republish this recipe, please re-write the recipe in your own words and credit me, or link back to this post for the recipe.