November 3, 2018
Kinder Bueno Drip Cake!
*This post may contain affiliate links. Please see my disclosure for more details!*
A four-layer Kinder Bueno drip cake with Kinder chocolate frosting, chocolate drip, and all the Kinder Bueno goodness!
Happy 4th birthday to my blog
So today is my blog's FOURTH BIRTHDAY! THAT IS RIGHT! JANE'S PATISSERIE IS FOUR. The excitement is unreal. Like, I can't cope. I thought I'd celebrate by posting a particularly sort after bake, this Kinder Bueno Drip Cake. Hello heaven.
But seriously, thank you SO incredibly much for the support over these four years, it has been mental. Yet again, this year is beating all the ones before.
I've managed to make this my full-time job, and it's grown so much that I am now struggling to keep up with it all! In the year since my blog's third birthday, I've peaked SEVEN MILLION VIEWS which is mind-blowing, and everything else has grown as well. Thank you thank you thank you! Anyway… back to the recipe…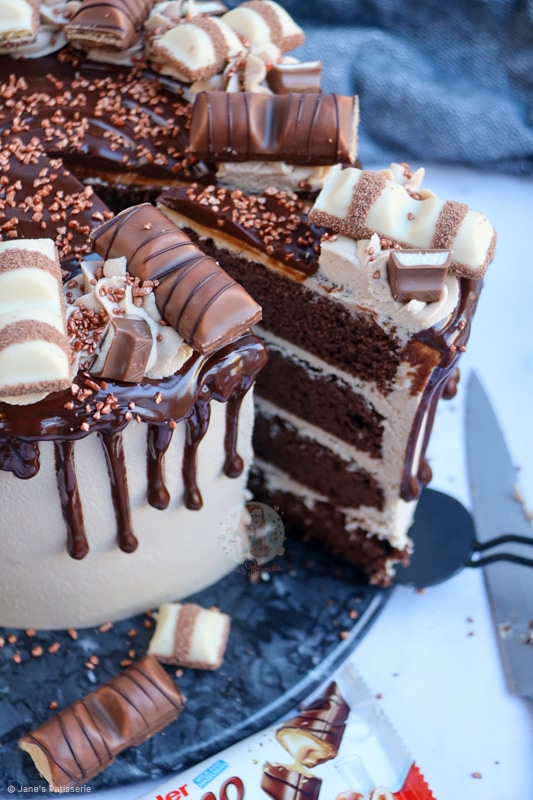 The idea
This cake is probably one of the most highly requested things I have had in a long time. I realise, I tend to say this quite a lot about different recipes, but I do get a lot of requests for recipes daily.
Sometimes, I get requests for recipes that are actually already on my blog and some people just haven't used the search function, but this one is a top-notch request that I wanted to post about now.
Kinder Bueno
Kinder Bueno treats are quite high up in the popularity scale on my blog, with my Kinder Bueno cheesecake being ridiculously popular on here, as well as being my most watched youtube video!
Anyway, I always to this day still underestimate how popular anything Kinder Bueno themed is, so I knew this beauty had to come out at some point! Before Christmas is obviously ideal. Perfect show stopper
They make a cake look insane and make everyone go 'oooooh' and 'ahhhh' when they see it. That's what you want when you bake a cake like this!
My Kinder Bueno cupcakes are a thing to behold themselves, and mainly where the inspiration for this recipe comes from. That, and being married to my Oreo drip cake to get an idea of ingredients amounts! This cake is essentially the beast of all things Kinder Bueno, and you'll all be as obsessed with it as I am, very soon. I can promise you that!
Drip cake
For this one, after having posted my Terry's chocolate orange layer cake recently, and my Nutella cake, I didn't want to do this one as a 'poop' effect cake… but a drip cake. I do love a good layer cake, evidently, but a drip cake just take the cakes to the next level!
Yes, I would say that drip cakes are quite a bit of effort, but it's 100% worth it. I know a lot of people don't believe it, some probably do too much, but it took a lot of practice and time to get better at drip cakes for me. They were never so simple in my eyes, but once I had the right tools, it was an entire bunch easier. This isn't a sales pitch, but its the truth.
Sponge
I went for a delicious and simple chocolate sponge for this beauty, as I just kinda love chocolate cake. Let's be honest, how can you not. Also, in my Kinder Bueno cupcakes, I did the same. I did use a DELICIOUS sweet hazelnut & chocolate flavouring which is just incredible, and I can wholeheartedly recommend again for this one. If you don't have access to it, however, you can swap it for vanilla extract!
Recommended tools!
The main question I get is 'how do you get the sides so smooth' and this large metal scraper is how. You need something taller than the cake, thin, and light. Having this angled spatula also helps.
Using a turntable makes things SO MUCH EASIER, and I recommend this turntable. When you plop your cake onto a ten-inch cake board, pipe the buttercream on it around the edges using this piping tip to coat the sides of the cake, it makes things easier. But using a turntable to turn the cake whilst you scrape the sides makes it MUCH easier.
Applying the 'drip'
After you've got the hack of the buttercream down, it's doing the drip bit. Having smooth sides isn't essential, but its very much the sort after look when it comes to drip cakes.
You don't need a piping tip, but you need a sealed piping bag. This does mean you can't easily use the cloth reusable ones, but it's worth it.
You fill the bag up with the chocolate, snip the smallest bit off.. probably something 4-5mm thick, and then you edge the chocolate over the edge of the cake. The longer you hold it there, or the harder you squeeze, it'll drip further. If you barely touch the side, it'll be a shorter drip!
More Kinder chocolate!
I then leave the cake to set a bit and decorate the top with swirls of leftover Kinder chocolate buttercream frosting. Top that, obviously, with pieces of Kinder Bueno to make it nice and obvious what flavour of cake it is, add on some chopped hazelnuts and some sprinkles to make it look a bit more 'yay' and you are basically there!
Piping bags and tips!
When I am decorating the sides of the cake for the drip, I recommend these piping bags for the drips. I use these piping bags for the buttercream and this piping tip for the buttercream swirls to make it nice and pretty!
So, as I write this post up, devouring yet another slice of another one of these cakes, I am happy that I am finally sharing this one for you! If you have any questions for me then leave a comment or email me! Enjoy!
Kinder Bueno Drip Cake!
A Four-Layer Chocolate Cake with Kinder Chocolate Frosting, Chocolate Drip, and all the Kinder Bueno Goodness!
Print
Pin
Rate
Ingredients
Cake Ingredients
500

g

unsalted butter

500

g

light brown soft sugar

400

g

self-raising flour

100

g

cocoa powder

10

medium

eggs

2

tsp

vanilla extract

*
Buttercream Ingredients
400

g

unsalted butter

800

g

icing sugar

300

g

kinder chocolate
Decoration Ingredients
75

g

dark chocolate

75

g

milk chocolate

150

ml

double cream

Kinder Bueno

Kinder Chocolate

Sprinkles
Instructions
For the Cake
Preheat your oven to 160ºc/140ºfan, and line two deep 8"/20cm cake tins with parchment paper. 

Beat together the unsalted butter and light brown soft sugar until light and fluffy. 

Add in the self-raising flour, cocoa powder, eggs, flavouring and beat again until combined. 

I usually beat the mixture for a couple of minutes until smooth.

Split between the tins, and bake in the oven for 60-70 minutes. Test the cakes with a skewer to make sure it comes out clean. 

Leave the cakes to cool in the tins.
For the Buttercream
Make sure your unsalted butter is at room temperature and beat on its own for a couple of minutes. 

Melt the Kinder chocolate in a bowl carefully either in the microwave or over a bain-marie, until melted. Leave to the side for a minute to cool.

Add the icing sugar into the butter and beat in fully.

Add in the melted kinder chocolate and beat again. 
For the Decoration
Split each cake into two, so you have four layers.

Spread a smidge of buttercream onto your plate/cake board and put your first sponge on top. The smidge of buttercream keeps the cake secure.

Spread some buttercream over the top, only about 1-2tbsp, and then add your next sponge.

Repeat the process again and again, until you reach your fourth sponge.

Add your final sponge, and then lightly cover the top and sides with a small amount of buttercream to create a crumb coat. Chill for 30 minutest.

Slather on some buttercream onto the sides and top using a small angled spatula

Using a large metal scraper, gently but firmly scrape around the edges of the cake in long glides.

Chill again for another 30 minutes.

Add the dark chocolate, milk chocolate and double cream to a jug, and microwave and stir until smooth.

Using a small disposable piping bag, snip the end off and carefully drip down the sides of the cake.

Leave the drips to set again for a small amount of time.

Decorate how you fancy - I used leftover buttercream for swirls, and then covered the cake in all things, Kinder!
Notes
For this recipe I recommend...
This cake is very tall... for a smaller version, simply halve the recipe.

It'll make a delicious two-layer cake. 

This cake will last for 3 days+ at room temperature. 
You can use milk/dark chocolate in the buttercream instead, but I definitely recommend the Kinder Chocolate to fit with the theme. 
Recipe update June 2022 - only difference is using a different drip method (150g dark chocolate + 1-2tsps oil before), and changing the flavouring to vanilla from This sweet hazelnut & chocolate flavouring! 
ENJOY!
Find my other Recipes on my Recipes Page!
You can find me on:
Instagram
Facebook
Pinterest
Twitter
Youtube
J x
© Jane's Patisserie. All images & content are copyright protected. Do not use my images without prior permission. If you want to republish this recipe, please re-write the recipe in your own words and credit me, or link back to this post for the recipe.
244 Comments