September 7, 2019
Raspberry Brownies!
*This post may contain affiliate links. Please see my disclosure for more details!*
Thick, gooey and oh so fudgey chocolate chip brownies with raspberries.. the perfect raspberry brownies.
Recipe!
So… who knew that SO MANY PEOPLE would want this recipe. Even just as I am writing this I have had a request for the recipe, so it seems a good fit! Definitely, a sought after one.
I realise that I put on a lot of recipes that they are requested recipes, but that's genuine because they are! As I now have 475+ recipes on my blog, I rely on requests as I already have so many! If you ever wanted to request a recipe yourself, send me an email, or comment on a blog post!
Raspberry brownies
Anyway… back to these bad boys. I have done SO much experimenting to get these right, as I really do want them to be perfect. And from the start, I will say that the method to this recipe is different from my other brownies, but the ingredients are extremely similar.
The reasoning behind this is, the fruit can cause you mayhem in brownies, as they already have to be so exact, and the moisture from the fruit can ruin a brownie in seconds. These, however?! Perfection. If I can say so myself…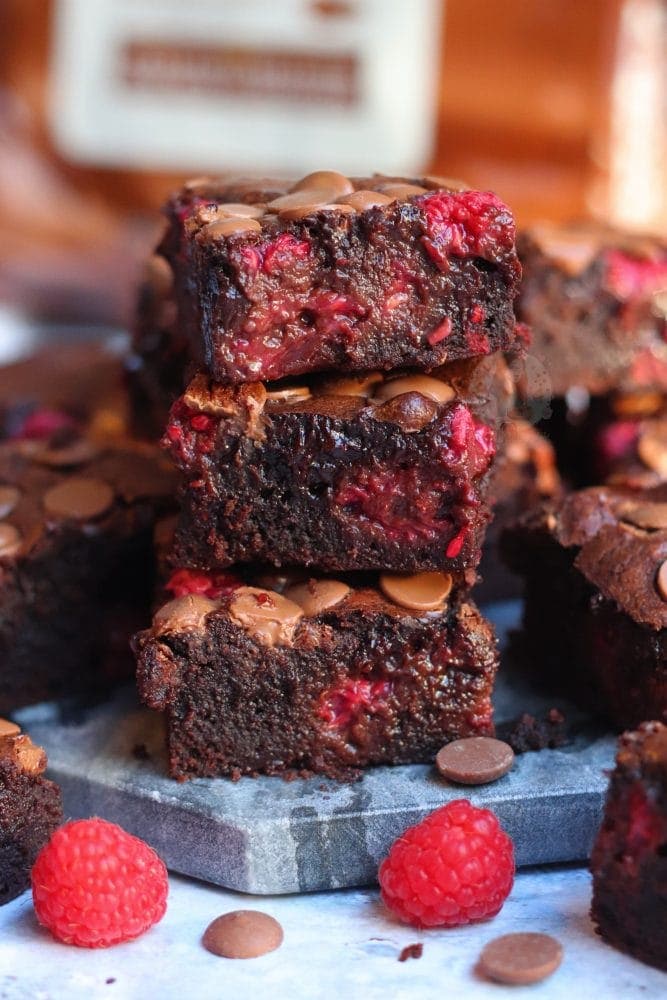 My other brownies, such as my triple chocolate brownies, or my Kinder Bueno brownies, for example, all use the whisking of eggs/sugar method, where you make it into as thick a mix as possible and fold everything together. I stand by these recipes as they really are EPIC.
However, after trying countless times, I just couldn't get it to be how I wanted for these ones! Therefore, I tried a slightly different method. The quantity of chocolate and butter is the same, the sugar is the same, the eggs are the same, it's just the dried ingredients are slightly increased to make the batter thicker.
Method
For these ones, you melt the chocolate, butter and sugar together in a pan till smooth. Then you (one by one) mix in the eggs once the mixture has cooled slightly. And then, you mix in the flour and cocoa powder. It creates a much thicker mixture compared to my other brownies and therefore means it's much better for the fruit.
You can, of course, use this method for my other brownies too, but I do still utterly adore the other method and I won't personally be changing them.
Raspberries and chocolate
I then add in fresh raspberries (as frozen can make them take longer to bake), and pour into the dish. Sprinkle on some chocolate chips and a few more raspberries, and you bake!
This recipe creates such thick and gooey brownies, that are oh so fudgy and utterly delicious. The fruit gives them a tartness that cuts through the sweetness, but the chocolate chips give them the chocolate pockets you crave. They really are heavenly.
Other recipes to try!
If you like the sound of these, you should check out some of my other recipes – white chocolate & raspberry blondies, lemon & blueberry blondies or my Terry's chocolate orange brownies!
ENJOYYYY!! x
Raspberry Brownies!
Thick, gooey and oh so fudgey chocolate chip brownies with raspberries.. the perfect fruity chocolatey flavour combination!
Print
Pin
Rate
Ingredients
200

g

dark chocolate

200

g

unsalted butter

275

g

caster sugar

4

medium

eggs

(or 3 Large)

150

g

plain flour

50

g

cocoa powder

300

g

raspberries

150

g

chocolate chips
Instructions
Preheat your oven to 180C/160C Fan, and line a 9x9" square tin with parchment paper.

Add your dark chocolate, butter and sugar to a pan, and melt on a low heat. Stir frequently so the chocolate doesn't burn, and melt until it's smooth.

Transfer the mix to a bowl, and leave to cool for 10 minutes.

Add in the eggs, one at a time, stiring in fully each time.

Add in the flour, and cocoa powder, and stir until combined.

Add in 2/3 of the raspberries, and stir through.

Pour the mixture into the tin, and then sprinkle over the chocolate chips and the rest of the raspberries.

Bake the brownies in the oven for 30-35 minutes!

Leave the brownies to cool in the tin fully!
Notes
PLEASE USE DARK CHOCOLATE IN THE MIX. It's very important - milk chocolate should be avoided for this bit.
You can sprinkle on white/milk or dark chocolate, however. 
I used fresh raspberries as they were in season, and are delicious. You can use frozen, but be prepared that it can take a little longer to bake.
Some brownies can naturally take longer to bake in some ovens as temperatures in ovens can often be incorrect without you knowing. 
Check the brownies after 25 minutes - mine took on average 32 minutes. 
These will last for 3-4 days once made!
ENJOY!
Find my other Recipes on my Recipes Page!
You can find me on:
Instagram
Facebook
Pinterest
Twitter
Youtube
J x
© Jane's Patisserie. All images & content are copyright protected. Do not use my images without prior permission. If you want to republish this recipe, please re-write the recipe in your own words and credit me, or link back to this post for the recipe.