October 19, 2019
Spooky Spider Web Cake!
*This post may contain affiliate links. Please see my disclosure for more details!*
Spooky spider web cake with a red velvet sponge, white buttercream frosting, black chocolate buttercream frosting, and a marshmallow web… deliciously spooky.
Spooky spider web cake
It's the season to be spooky, so I thought I'd go all out. Here, is my spooky spider web cake. Yeah, that's right… it's spookilicious. Red velvet cake, two different buttercream frostings, and a marshmallow web! All edible, all spooky.
SO! Basically, I feel like I have always neglected Halloween on this blog. In all honesty, it's probably the least important in my life, as I've never been one to really celebrate it! Don't get me wrong, I adore everything autumnal, but Halloween? I hate horror movies, and I hate all things spooky.
However… when it comes to cake? I feel like I should change this, and go all out. You guys also request spooky recipes, so I know it's something you want! I wasn't sure where to go, but after having a massive craving for red velvet the other day, I figured something red was the way to go.
Cake
I decided to basically make my red velvet cake, but supersized! In my red velvet cake I do use cream cheese frosting, but that doesn't really work with this theme in my opinion. Because this is turned into a drip cake, I thought it was best to go with a regular buttercream for firmness!
Buttercream
When making a cake like this any way, you want to make sure the buttercream is lovely and firm, so that you are able to create that sharp edge. If you use something like cream cheese frosting, which is temperamental anyway, you will have a struggle!
I decided to go down a two-tone buttercream so that the inside really was a surprise. I just went for a basic vanilla frosting for the middle, and crumb coat – and then I wanted the ultimate contrast of a black outer. This is best achieved by starting with a chocolate buttercream, and then making it black. Otherwise, you'll probably end up with grey.
Food colouring
As I have said before, the absolute best red food colouring you can use for red velvet cakes, or ganache drips is extra, is this wonderful food colouring. Don't be scared by the price – the amount you need is minuscule in comparison to the pot, makes it worth while. Red Extra food colouring is the only one I recommend this days!
For the black food colouring, I recommend this black food colouring – I find using a really dark cocoa powder is best, and most ones such as Tesco's own, or Dr Oetkers are a lovely dark colour anyway! Then, you add in the food colouring mixed with a smidge of boiling water and you are there!
Marshmallow web
For the marshmallow… I didn't invent this idea, and I must say.. it's one of the stickiest things I have ever done. I will say this now, you will need to wear gloves.
Oh my gosh, gloves are needed. Melting the marshmallow is easier – in a pan, and heat. Then, you need to pick it up and pull it apart and attach to the cake.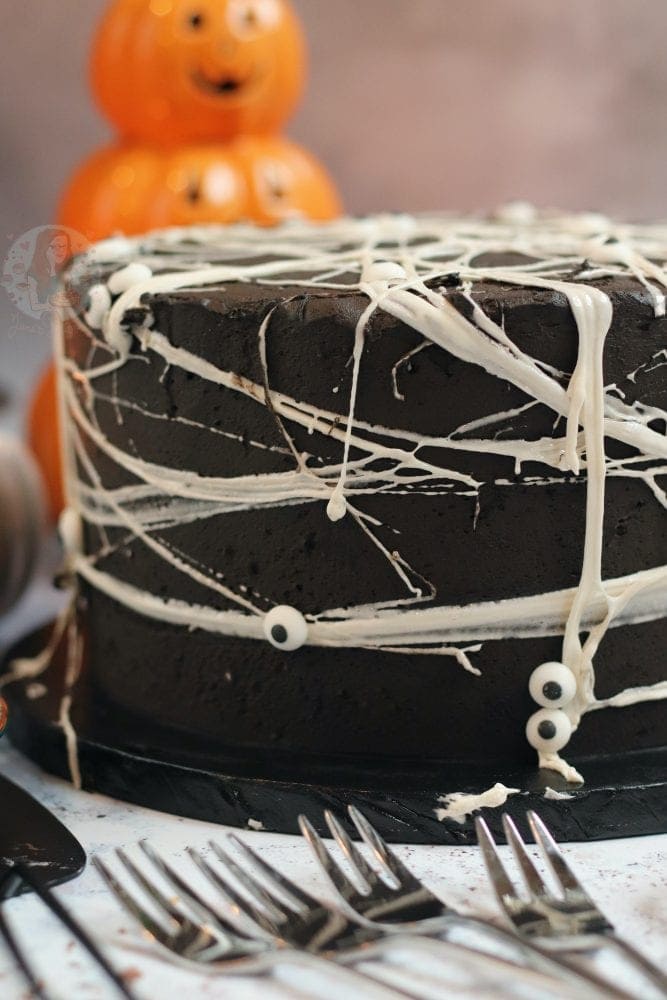 This is hard to describe, best to YouTube it if you are confused! It tends to be stretchier and better if it has been cooled slightly, but cool it too much and it'll solidify again! So.. be careful, and experiment! The good thing is, spider webs can get away with being messy for Halloween!
Edible eyes
Finally, I used edible eyes that I bought online, here! Also, a beautiful black cake board to add to the effect of the cake, but also… I just love a differently coloured cake board to the regular silver! Enjoy!
Spooky Spider Web Cake!
Spooky spider web cake with a red velvet sponge, white buttercream frosting, black chocolate buttercream frosting, and a marshmallow web... deliciously spooky.  
Print
Pin
Rate
Ingredients
For the Cake
185

g

unsalted butter

400

g

caster sugar

5

medium

eggs

50

g

cocoa powder

1-2

tsp

red food colouring

2

tsp

vanilla extract

375

ml

buttermilk

450

g

plain flour

1.5

tsp

bicarbonate of soda

3

tsp

white wine vinegar
For the Buttercreams
350

g

unsalted butter

700

g

icing sugar

1

tsp

vanilla extract

50

g

cocoa powder

1

tsp

black food colouring
For the Spider Web
150

g

marshmallows

Edible sugar eyes
Instructions
For the Cakes
Preheat your oven to 180C/160C Fan - and line three 20cm/8" tins with parchment paper!

Beat together your butter and sugar until combined.

Add in the eggs and cocoa powder and beat again until combined.

Mix the red food colouring with the vanilla to form a paste, and add into the mix. Beat until combined.

Add in the buttermilk and flour and beat again until combined - try not to over mix it.

Finally, add in the bicarbonate and white wine vinegar and beat in quickly.

Split the mixture between the three tins, and bake the cakes in the oven for 30-35 minutes, or until baked through.

Once baked, the leave the cakes to cool in the tins for 10 minutes or so, and then leave to cool on a wire rack.
For the Buttercreams
Make sure your butter is at room temperature as it's much easier to use.

Beat the butter on it's own to loosen it and make it perfect for the icing.

Add in the icing sugar and beat again until smooth!

Split the mixture into two.

In one, add the vanilla and beat until smooth!

In the other, add in the cocoa powder and mix until smooth. Mix the black food colouring with 1tbsp of boiling water, and beat into the buttercream.
For the Decoration!
Prep your cakes and make sure they are level.

Put your first cake onto a board, and attach to the board with a small smudge of butercream underneath.

Add on some buttercream and smooth over - add on the second sponge. Repeat with more buttercream and add on the third sponge.

Use the rest of the vanilla buttercream to make a crumb coat - spread it over the top and sides and smooth around with a scraper. Chill the cake in the fridge for 20 minutes to harden!

Take the black buttercream and spread it over the top and sides and smooth again with a scraper.

Set the cake in the fridge again for 20 minutes. During this time, make the marshmallow web!

Add the marshmallows to a pan, and heat on a low heat - mix with a spatula until melted. Take off the heat and leave to cool slightly and stir every now and again.

Once the cake is ready, and the marshmallow, decorate!

Carefully pick up the marshmallow in small lumps and stretch around the cake - again... hard to explain. Once done, add on anything else you fancy - I went for edible eyes!
ENJOY!
Find my other Cake Recipes on my Recipes Page!
You can find me on:
Instagram
Facebook
Pinterest
Twitter
Youtube
J x
© Jane's Patisserie. All images & content are copyright protected. Do not use my images without prior permission. If you want to republish this recipe, please re-write the recipe in your own words and credit me, or link back to this post for the recipe.