September 4, 2021
Custard Cream Blondies!
*This post may contain affiliate links. Please see my disclosure for more details!*
Easy white chocolate chip custard cream blondies with a custard flavoured blondie based, stuffed with custard creams!
Custard cream blondies
So we have all experienced the absolute wonders that are the blondies already in my blog, but I just couldn't resist posting another one… this time?! Custard cream flavoured! The absolute best of the best in my eyes.
I have had so many requests for a custard cream blondies recipe that I can't actually cope! My biscoff blondies and my bakewell blondies have always been so popular, but I have a feeling these are going to be on another level.
I have a thing for blondies as they are such an easy traybake to make, but also just so good! They are fudgey, sweet, and incredibly moreish. With a custard twist, they are even better! Honestly, I know you will enjoy them.
Blondies
For the base of the recipe, I have stuck to the same idea as my biscoff blondies because I just love it! I am a firm believer in 'if it ain't broke, don't fix it' and I am in loveeee with these.
I will say now, as I do in all my blondies at the moment, I do not use a melted white chocolate base. Technically, a blondie is a non-chocolate brownie – so without the cocoa or dark chocolate. They are also known as white chocolate brownies, but I don't actually like using white chocolate with this recipe!
I find when adding the melted white chocolate to this recipe changes it and it just doesn't taste as nice! I will produce a white chocolate one in the future, but for now… please just stick with this recipe as it is. It's a blonde coloured traybake = blondie!
Custard powder
But anyway.. I am OBSESSED AS ALWAYS. A little twist for these, is using custard powder in place of cornflour. They do act in a really similar way, but the custard powder brings a flavour of custard, and also the deeper and yellower colour!
You can of course, use 1tbsp cornflour, but honestly… to stick with the theme you might as well! You get enough delicious flavour from the custard creams which are obviously ESSENTIAL to the bake. And you get some gooey from the white chocolate!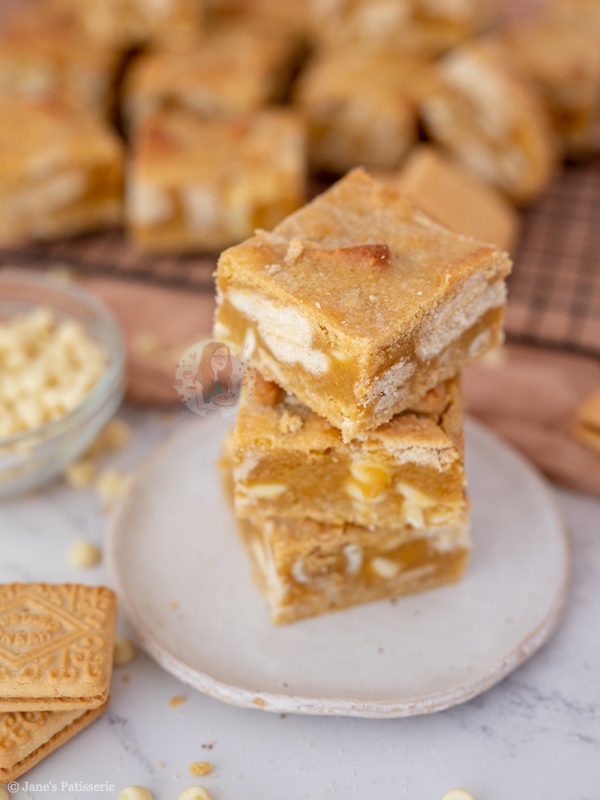 Biscuit
Like always, my bakes are customisable and delicious – you can use any other biscuit you fancy! I have a recipe for Jammie Dodger blondies on my blog and they are just heavenly!
Honestly, go for it. It's worth noting that these are rather addictive though, and custard creams are one of my favourite classic biscuits out there! Biscuit blondies are definitely a must try for biscuit lovers everywhere!
Tin
Some top tips for baking blondies – like any recipe, nothing is fool proof. I hate that phrase in baking, as there are so many factors that can make a recipe change and not work! For this recipe, a key part is use the correct size tin, and have the correct oven temperature.
I know this sound obvious, but I use this baking tin for this recipe – I've had many comments in the past of different tin sizes used, and the recipe hasn't worked! Some tin sizes can need more than double the mixture for "just two inches bigger a tin"!
Bake
Another super important factor is the oven temp – if you are unsure, get an oven thermometer!! They are the best invention. One of my ovens in the past was 50ºc incorrect, so you can imagine my attempts at baking in that!
It's always best to bake the blondies so that there is a slight wobble in the middle of the tin. It shouldn't shake, but a little wobble is perfect. After that, a great tip is to let the blondies cool in the tin, and then whack the tin in the fridge. This creates that beautiful fudgy texture you can see in the photos!
I hope you guys love this recipe – if you have any questions, leave them below in the comments! And if you have a go at the bake, make sure to post a photo on social media and tag me! Jane x
Custard Cream Blondies!
Easy white chocolate chip custard cream blondies with a custard flavoured blondie based, stuffed with custard creams!
Print
Pin
Rate
Ingredients
200

g

unsalted butter

(melted)

125

g

white granulated sugar

125

g

light brown sugar

3

medium

eggs

1

tsp

vanilla extract

275

g

plain flour

35

g

custard powder

200

g

white chocolate chips

200

g

custard creams

(chopped)
Instructions
Preheat your oven to 180ºC/160ºC Fan and line a 9x9" square tin with parchment paper.

In a large bowl, add the melted butter, white granulated sugar and light brown soft sugar and beat until smooth.

Add in the eggs and vanilla extract and beat again until smooth.

Add in the flour and custard powder and beat until a thick blondie mixture is made - it really doesn't take long to create this mixture!

Add in the custard creams and white chocolate chips and fold together.

Bake the custard cream blondies in the oven for 25-30 minutes, or until there is a slight wobble in the middle. (See notes below)

Leave to cool in the tin, or on a wire rack.

As an optional extra, you can 'set' your blondies in the fridge for an hour or so to help with the texture! ENJOY!
Notes
The bake time can vary - please make sure your oven is on the correct setting, and check from 22+minutes and onwards till they are baked! These took 25 minutes in my fan oven. 
If they turn out cakey, they are over baked - that's all! Bake for a little less time next time. 
One top tip is if they've been in for the 25-30 minutes, and you're still not sure, let them cool outside of the oven fully and then put them in the fridge for at least an hour to 'set'. It can firm them right up! Over night in the fridge is best. 
I use the birds custard powder
These will last in a container for 4-5+ days
I keep them at room temperature. 
I recommend this tin!
ENJOY!
Find my other Recipes on my Recipes Page!
You can find me on:
Instagram
Facebook
Pinterest
Twitter
Youtube
J x
© Jane's Patisserie. All images & content are copyright protected. Do not use my images without prior permission. If you want to republish this recipe, please re-write the recipe in your own words and credit me, or link back to this post for the recipe.