June 24, 2022
Millionaires Loaf Cake!
*This post may contain affiliate links. Please see my disclosure for more details!*
A brown sugar cake filled with a caramel sauce, topped with silky smooth chocolate buttercream frosting = the best millionaires loaf cake!
Now I know I have been a little heavy on the millionaires theme of bakes over the years, but that's because I literally cannot explain how much I adore the millionaires theme. I AM OBSESSED OKAY?!
Honestly though, some of these bakes are my most viewed recipes ever, so why would I not contribute even more to the theme of utter deliciousness?! My millionaires cake is always popular, my millionaires shortbread is insanely popular, and I mean I just adore my millionaires cupcakes.
For this cake, I wanted to merge all of these delicious recipes into one of the most popular types of cake ever, the loaf cake. I never used to understand why loaf cakes were so popular, but they're easy to serve, easy to bake, and you get bakes such as this millionaires loaf cake out of it!
Cake
For the sponge I wanted to follow my normal idea of a brown sugar type sponge, that is incredibly easy to make. I tend to always use the creaming method of butter and sugar first, as this normally means you won't run into problems later.
I find that if your butter is too cold, and you do the all in one method, you may end up with a split lumpy butter bowl which nobody wants in their life! Creaming the butter and sugar together prevents this problem.
I then add my flour, eggs and flavouring if I use any and mix this all together. You can add the eggs one at a time if you wish, but I really don't think it's necessary – it just takes longer for a regular cake like this.
Butter – For the sponge you can easily use a baking spread, margarine or room temperature butter – they all work well!
Sugar – For this one I made a small change and used dark brown soft sugar instead of my normal light brown soft sugar for a cake like this – I wanted a deep caramel flavour and oh my gosh it was delicious!
Flour – As always, self raising flour for cakes!!
Eggs – I used a 4 egg mixture for this cake, weighing the eggs in shells got me to 225g of egg so I used 225 of the other ingredients!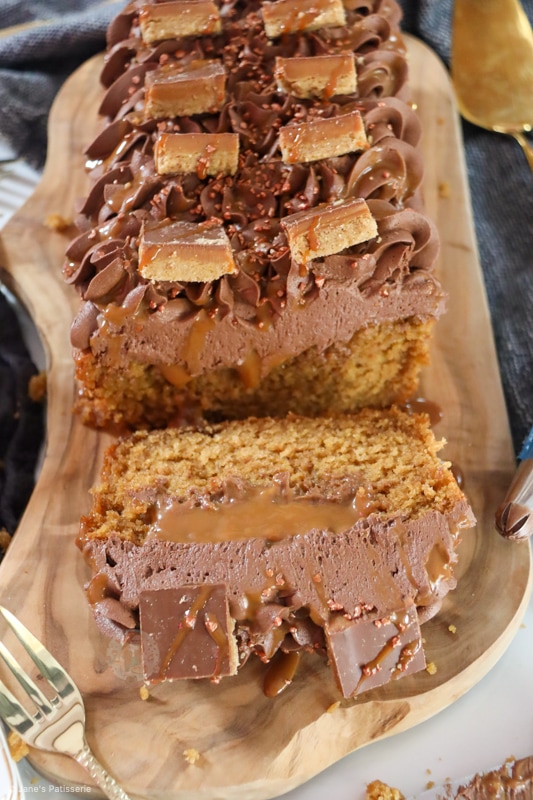 Filling
The filling is really simple, its caramel sauce that is ready made. However, you can 100% make your own! I have a delicious homemade caramel sauce recipe on my blog that is thick, luscious and utterly delicious and perfect for this.
The caramel is meant to be oozy and delicious, so it doesn't 'set' in the cake, but it's not meant to. I wouldn't recommend using a millionaires shortbread style caramel, as that won't work!
You can also add salt to the mixture if you wanted the caramel to be a salted caramel as this would be delicious and combat the sweetness really well.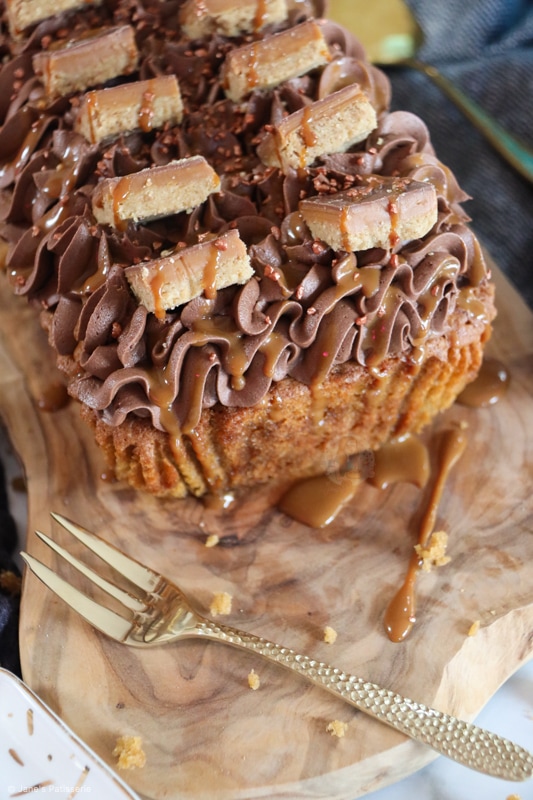 Frosting
For the frosting I decided to use a really basic chocolate buttercream. To make it even easier I did use cocoa powder as this prevents having to melt anything, but you can use a chocolate fudge icing, or a buttercream with melted chocolate in if you preferred.
My chocolate fudge icing us on another level, but I really did just want a thick chocolate taste in this, which is so easy to achieve with the cocoa powder I use. It's 100% in strength, so a delicious chocolatey flavour!
If you want a melted chocolate frosting, you can replace the cocoa powder with 125g melted dark chocolate.
Tips & Tricks
As with any loaf cake its super important to use the correct sized loaf tin. Annoyingly, as I always mention, loaf tins can vary in size and it's SO frustrating. I use this loaf tin in this recipe for ease, as I use in most of my loaf tin recipes.
I core out the sponge with about an inch border, as you definitely don't want to go completely to the edge. If you go too near to the edge, you risk damaging the cake and the caramel would explode out.
I use this piping tip for the decoration as we all know how much I love it – a large piping bag with the piping tip in, the frosting, and swirl away. I love a simple decoration, but adding some millionaires bites on top and some sprinkles just finished the millionaires loaf cake off perfectly.
ENJOY!!!!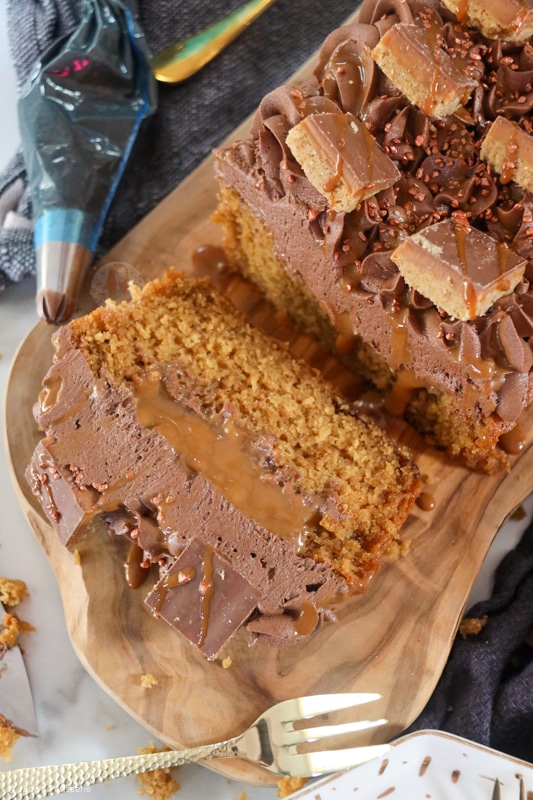 Millionaires Loaf Cake
A brown sugar cake filled with a caramel sauce, topped with silky smooth chocolate buttercream frosting = the best millionaires loaf cake! 
Print
Pin
Rate
Ingredients
Cake
225

g

unsalted butter

225

g

dark brown soft sugar

225

g

self-raising flour

4

medium

eggs
Caramel
250

g

caramel

pinch of salt

(optional)
Decoration
150

g

unsalted butter

(room temp)

275

g

icing sugar

25

g

cocoa powder

1

tsp

vanilla extract

(optional)

millionaires bites

sprinkles
Instructions
Cake
Preheat the oven to 180ºc/160ºfan and line a 2lb loaf tin.

Beat together the unsalted butter and dark brown soft sugar until creamy

Add the self raising flour and eggs, and beat again until smooth.

Pour this into the tin, smooth over and bake for 50-60+ minutes.

Once baked, leave to cool fully in the tin.
Filling
Mix the caramel with the salt if you want to make it salted caramel.

Core out the middle section of the loaf cake - I cut down a couple of centimetres with a 1" border around the cake.

Fill the hole with the caramel.
Decoration
Beat the unsalted butter on its own for several minutes to loosen

Add the icing sugar, and cocoa powder (and vanilla if using) and beat until smooth.

Pipe this onto the cake however you like, and then top with millionaires bites and sprinkles!
ENJOY!
Find my other recipes on my Recipes Page!
You can find me on:
Instagram
Facebook
Pinterest
Twitter
Youtube
J x
© Jane's Patisserie. All images & content are copyright protected. Do not use my images without prior permission. If you want to republish this recipe, please re-write the recipe in your own words and credit me, or link back to this post for the recipe.