September 16, 2022
Kinder Bueno Tart!
*This post may contain affiliate links. Please see my disclosure for more details!*
A delicious no-bake kinder bueno tart with a biscuit base, white chocolate hazelnut filling, hazelnut chocolate ganache and more…
Oh yes… thats right, HERE IT IS! The tart to end all tarts, the dessert to win any guest over and one of my favourite bakes I have ever made… my no-bake kinder bueno tart!
No-bake tarts
So lets sit here and wonder how many no-bake tarts I have posted onto my blog so far… because, yeah, its a lot. I am obsessed but I have absolutely no shame in that as they are amazing.
I adore a no-bake tart as often they are an easy to make and absolutely delicious no-bake dessert that makes a change from a cheesecake, and you can make so many delicious and different flavours.
Some of my favourites include my after eight tart, my white chocolate and raspberry tart and my salted caramel easter tart… but this one?! This kinder bueno tart?! LIFE CHANGING!
Kinder bueno
So of course, the theme of this kinder bueno tart is… kinder bueno. No shock there really. However, I just wanted to explain why I am so beyond obsessed and why I thought a tart would be worth making.
The main answer? JUST LOOK AT THIS BEAUTY! It's absolutely perfect. The kinder bueno flavour is just one of my favourite things ever, so I tried to emulate that into a no-bake tart for you all.
The filling of a kinder bueno is like a white chocolate hazelnut creme with a wafer and chocolate – so here you have a biscuit base for the crunch, a white chocolate hazelnut creme layer, and then a ganache to boot. Of course, as many kinder bueno and kinder chocolate on top that I could muster.
Hazelnut filling
So when it comes to this white chocolate hazelnut creme filling (also just known as hazelnut creme sometimes) you can either buy it online here, or try and find it in supermarkets such as morrisons. I am developing a homemade version, but gimme a little time to perfect it.
It's an optional extra, but its meant to represent the filling of the kinder bueno! You can just use a layer of nutella to still get the hazelnut flavour – or you could even mix half nutella with half white chocolate spread to make your own.
Or, you can just leave it out.
Ganache
For the ganache, it follows the same idea as my biscoff tart, baileys tart, and my billionaires tart by making a simple yet DELIGHTFUL ganache with few ingredients.
The main ingredients are dark chocolate, milk chocolate, butter and double cream. These melted together, in the correct ratios, create a really luxurious chocolate ganache filling that sets absolutely perfectly. The cocoa content of the two chocolates work well, so please stick to them! Changing them may make the tart not set.
The trick with this one though, is that the hazelnut creme is also added in – it gives it extra flavour and is delicious.
Decoration
For the decoration I tried to keep it relatively simple, but honestly… it never is. I piled on some milk chocolate regular kinder Buenos, some white chocolate kinder Buenos, some kinder chocolate pieces, and some chopped hazelnuts.
It ended up being quite an elaborate bit of decoration despite being oh so simple to do and achieve! Other than being absolutely scrumptious for some decoration, it also looks impressive.
You can add on some melted chocolate, some whipped cream or anything else you fancy, but I love it the way it is.
Tips & Tricks
When its comes to a tart like this, you want to use a LOOSE BOTTOMED TIN. It will make your life so much easier if you want to take it out of the tin. This is the tin I use in all of my tart recipes because it fits the amount of filling absolutely perfectly.
I also use this dark chocolate and this milk chocolate in all my baking, but generally any baking or supermarket own confectionary chocolate works best.
I tend to buy this hazelnut creme in bulk because it is SO YUMMY!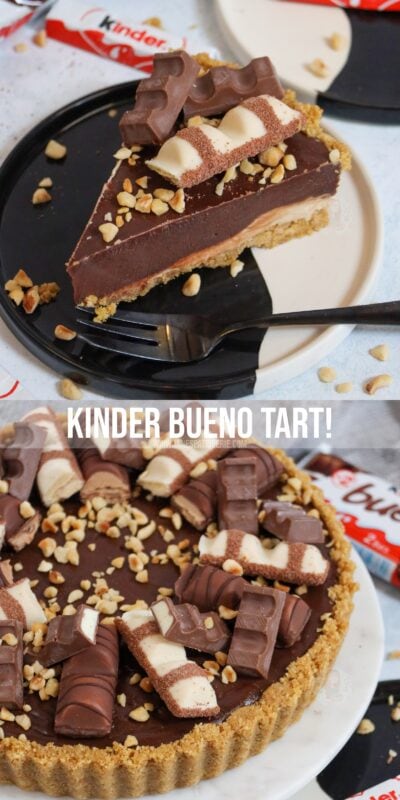 Kinder Bueno Tart!
A delicious no-bake kinder bueno tart with a biscuit base, white chocolate hazelnut filling, hazelnut chocolate ganache and more... 
Print
Pin
Rate
Ingredients
Biscuit Crust
300

g

digestives

150

g

unsalted butter
Filling
200

g

white chocolate hazelnut spread

(or nutella)
Ganache
250

ml

double cream

150

g

white chocolate hazelnut spread

150

g

dark chocolate

150

g

milk chocolate

50

g

unsalted butter
Decoration
Kinder bueno

Kinder chocolate

chopped hazelnuts
Instructions
For the Biscuit Crust
Blitz the biscuits to a fine crumb, and melt the butter.

Mix the biscuits with the butter to a wet sand texture

Press this into the sides and base of a 23cm tart tin
For the Filling
Melt your white chocolate hazelnut spread for about 20-30 seconds in the microwave, or in a pan till slightly smoother and more runny!

Spread it onto the biscuit base.
For the Ganache
Add the dark chocolate, milk chocolate, butter, double cream and spread to a large bowl.

Melt in short bursts in the microwave, stiring well each time, until melted.

Alternatively, add the chocolates, butter and spread to a bowl and heat the double cream until just before boiling point. Pour it over the mixture and stir until smooth.

Pour the chocolate mixture onto the spread and refrigerate for an hour or two until set firm. 
For the Decoration
I randomly placed pieces of regular kinder bueno, white chocolate bueno, kinder chocolate pieces and chopped hazelnuts.

Set for a further couple of hours if needed.
Notes
I use this white chocolate hazelnut spread but you can find it in some supermarkets such as morrisons. 
This dessert will last in the fridge for 3 days, covered.
If you want to use all dark chocolate, use 200g
If you want to use all milk chocolate, use 350g
Find my other recipes on my Recipes Page!
You can find me on:
Instagram
Facebook
Pinterest
Twitter
Youtube
J x
© Jane's Patisserie. All images & content are copyright protected. Do not use my images without prior permission. If you want to republish this recipe, please re-write the recipe in your own words and credit me, or link back to this post for the recipe.