November 3, 2022
Sprinkle Cake – My Blog's 8th Birthday!
*This post may contain affiliate links. Please see my disclosure for more details!*
A delicious 8″ vanilla sprinkle cake, with vanilla buttercream frosting and covered in sprinkles – to celebrate my blogs 8th birthday!!
HAPPY 8TH BIRTHDAY TO JANE'S PATISSERIE!!! Yes, that is correct… my lil' old blog is now eight years old and I cannot quite believe it.
I started this blog after going to cookery school when I just wanted to document bits that I was doing, not ever thinking that people would actually want to look at it.
But here we are, eight years later, the most popular baking blog in the united kingdom, with two number 1 Sunday Times best selling cookbooks – and it's still only really just getting started.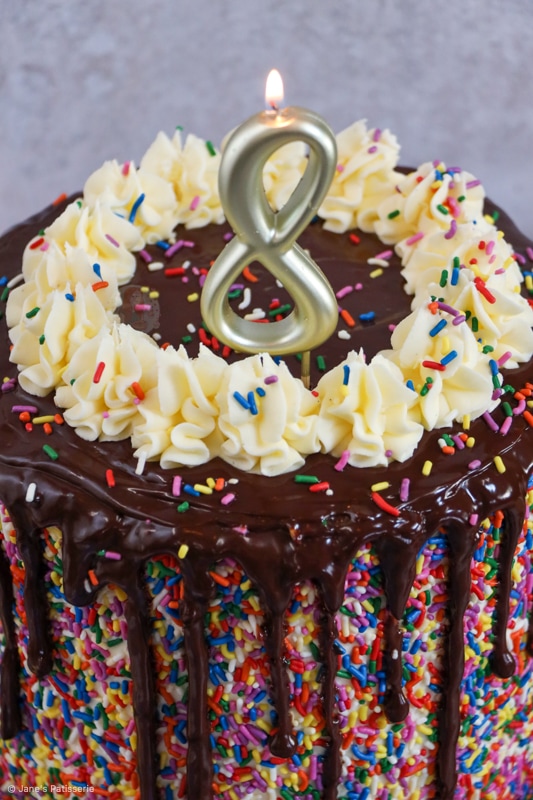 I cannot explain how mad it feels to log onto my blog and social media every day and see people baking my recipes from all over the world, all day every day. It brings me so much pure joy meeting my followers and fans, and being able to go on TV now, and bake live for people on stage.
My books are just insane – my first being the fastest selling baking book ever, and both becoming instant number one books?! WHAAAAT! I just can't cope.
Because of this, I wanted to celebrate with one of the most highly request bakes of all time… a sprinkle cake. But honestly, I cannot thank you all enough. Thank you for making my dream a reality and supporting me every day. Thank you. Jane x

Cakes
As with my 30th birthday cake recently I decided to use some sponges I already had to make my life easier – so this post doesn't have a cake recipe within it. Besides, it's about the decoration anyway!
I wanted to make a massive cake that really did celebrate it so it does use 5x 8″ cakes which is absolutely massive I know, but roll with me here.
You can use any sponge you want as a base – my chocolate fudge cake sponges are fudge and delicious, my chocolate drip cake has a delicious basic chocolate sponge, or you can jazz it up with more flavours – or even a rainbow cake!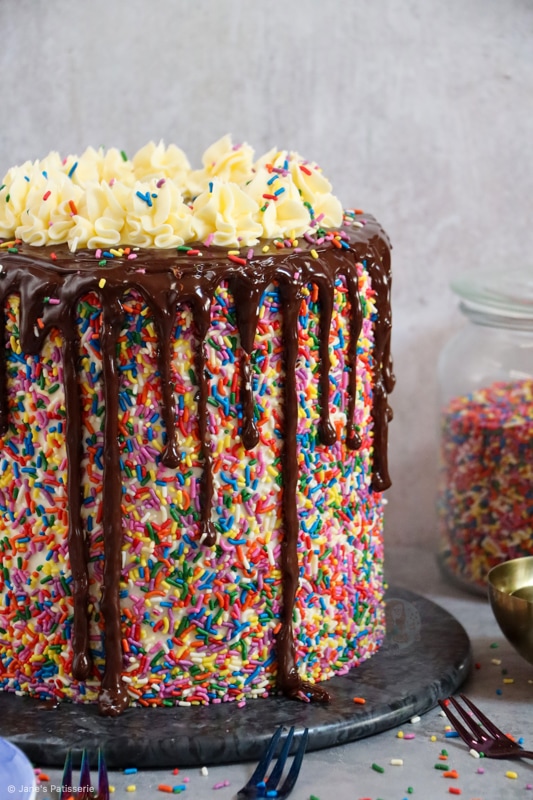 Buttercream
For the buttercream, I just wanted to do a basic vanilla frosting. I wanted to make sure that there was a stable base to stacking the cakes, as well as smoothing around the outside, so a basic American buttercream frosting was the answer.
An American buttercream frosting is one:two ratio of butter to icing sugar, and then flavoured. I use block unsalted butter (no spreads or margarines allowed!), and then use regular icing sugar. Vanilla extract was my flavouring of choice, but you can use anything – lemon, orange, mint, almond etc!
Luckily, because you are covering the sides in sprinkles, it doesn't have to be perfect. You still want the cakes to be level and straight, and as smooth as possible, but it doesn't have to be pristine like a regular drip cake as it's all getting hidden anyway.
Sprinkles
So… the most important bit of it all – the sprinkles. There are endless amounts of talk about sprinkles online, and there always will be in the baking world – but these are the insanely beautiful sprinkles that I use.
It's taken a while for legal sprinkles (ones that don't contain ingredients that are illegal in the UK) to come here – but they are here now!
I wanted the cake to be as bright as humanly possible which is why I decided to use the rainbow sprinkles, but as it's decoration and you aren't baking them, you can use others – they may not be as bright though.
Annoyingly, you do need more than you actually end up using because you have to have enough to push onto the cake and let some naturally fall off.
How-To
Once my cake is covered in buttercream, I create a barrier around my turntable with objects such as boxes of foil and clingfilm to catch any falling sprinkles. If you have a box big enough to let the cake turntable and cake sit inside, this also works, but you need space to move you arm.
I use a large handful of sprinkles in the palm of my hand to gently push the sprinkles up the sides of the cake, and effectively stick them into the buttercream. This part is quite hard to explain, but there are videos on my social media channels for this bake today.
I ended up using 300-400g worth of sprinkles on this size of cake, but again, it is a massive cake. All in all, I had about 800g of sprinkles being used to create the look and I simply placed the unused ones back into a container for another time.
It's a messy cake to make, but SO WORTH IT.
Tips and Tricks
For the drip I used the same drip as in my chocolate drip cake recipe because it works wonders. But of course, you don't have to add a drip. I just fancied it to level up the bake even more!
I decorated the top with some swirls of frosting and a couple more sprinkles to just finish it off, but again – this is optional.
I use:
Find my other recipes on my Recipes Page!
You can find me on:
Instagram
Facebook
Pinterest
Twitter
Youtube
J x
© Jane's Patisserie. All images & content are copyright protected. Do not use my images without prior permission. If you want to republish this recipe, please re-write the recipe in your own words and credit me, or link back to this post for the recipe.