February 19, 2020
Caramel Skillet Cookie!
*This post may contain affiliate links. Please see my disclosure for more details!*
A gooey caramel skillet cookie with chocolate chips and a caramel centre – perfect served with a caramel drizzle and some vanilla ice cream!
My hidden skillet!
It's been a while since my skillet made it out of the cupboard. I won't lie, I might have forgotten I owned it. My oven had one of those shelves underneath it that I use for storage, and it went to the back never to be seen again…
This was, until we decided to get our kitchen renovated, and we needed to get our old oven out. I couldn't work out why the oven was so heavy, and it's because the shelf was still full of all my dishes, and the skillet.
Anyone who has a proper skillet, or an enamelled version like mine will know that they are heavy things – but that is part of their charm. I love the feel when I use them, but when they are also stuffed full of cookie?! Yep. That wins.
Skillet recipes
I've done a couple of skillet recipes before with my skillet brownie, and my skillet cookie – but I wanted to elevate the cookie into something else. These other posts are a lot older, so I wanted to bring this bake into my newer version of style… stuffed with caramel.
So. This recipe is essentially the same thing as my cookie bars. My Mini Egg cookie bars, and my Rolo cookie bars for example always have such a good bake – that I knew I wanted to use the same sort of recipe for this one too.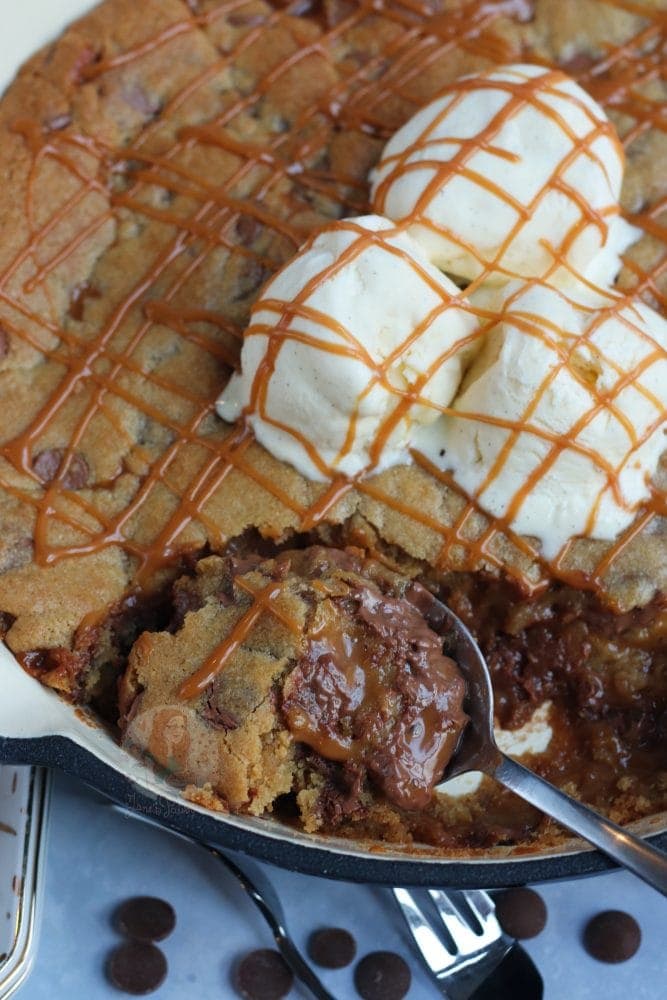 Baking with caramel
The thing is with this one is that they can be baked for slightly longer or less time, depending on how gooey you want your cookie to be – but because of the caramel, you will want to make sure it's actually baked.
One risk of layering in a load of caramel like in this one, is that it sort of prevents the cookie from baking in a way, so making a load of gooey mess. It is of course still delicious – but it needs to be edible. After a certain point, it will be safe to eat – but the more chocolate or caramel you add, the gooier it will be!
Serve
I love this recipe. As you can see from the photos it's incredibly indulgent – so you don't need much. I genuinely find adding on vanilla ice cream helps with the sweetness – but I do that often.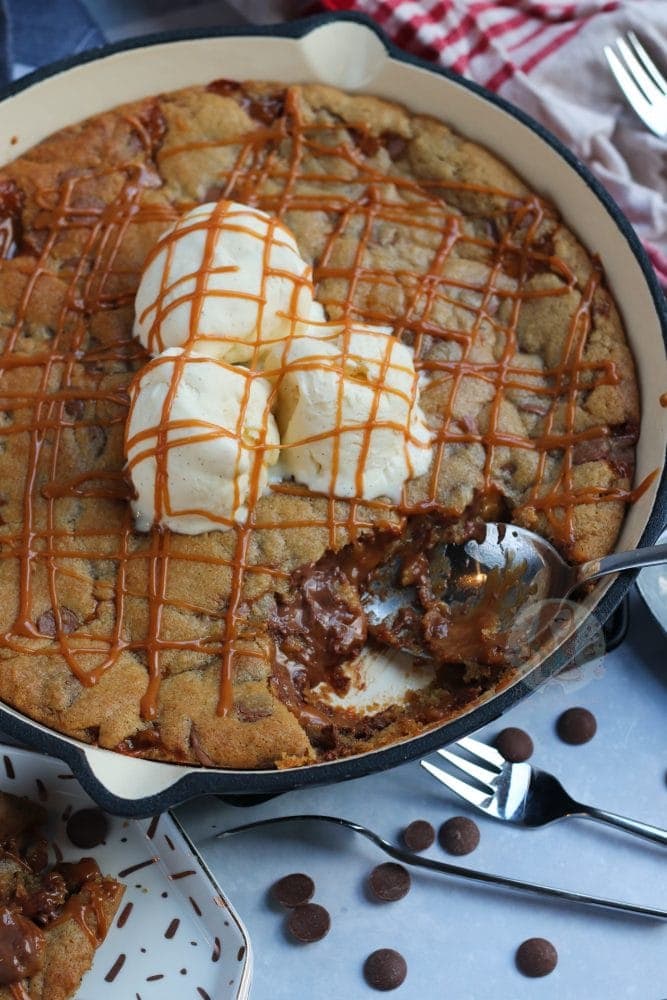 Triple chocolate brownie? Ice cream makes it easier to eat. Giant gooey cookies? Ice cream makes it easier to eat. Sticky toffee pudding? Ice cream makes it easier to eat. You get the picture! I love it.
No skillet?
One thing I will say is that because my skillet has an enamel coating on the inside and out, it's easier to just go straight into baking with it. If you have a classic cast iron skillet, I'm sure you know all about curing them.
If you don't have a skillet – you can use a pie dish, a tray or so on – I would suggest serving this as a dessert though, as it's not really something you can cut into slices. It's the gooiest of indulgent goo – and you want it to stay that way. ENJOY!!
Caramel Skillet Cookie!
A gooey caramel skillet cookie with chocolate chips and a caramel centre - perfect served with a caramel drizzle and some vanilla ice cream!
Print
Pin
Rate
Ingredients
275

g

plain flour

1

tsp

bicarbonate of soda

1/2

tsp

sea salt

1

tbsp

cornflour

115

g

unsalted butter

55

g

granulated sugar

135

g

light brown sugar

1

medium

egg

1

tsp

vanilla

250

g

chocolate chips

(I used milk)

200

g

caramel

(I used Carnations)
Instructions
Preheat your oven to 180C/160C fan and lightly grease your skillet. My skillet is 23cm in diameter!

Whisk together the plain flour, bicarbonate of soda, salt and cornflour together in a bowl and leave to the side for now. 

Melt the unsalted butter until liquid, and add to a bowl. Add in the light brown sugar and granulated sugar and whisk the mixture together for two minutes by an electric whisk, 3 minutes by hand. 

Add in the egg and vanilla and whisk again until they're combined.

Add in the mixed together dry ingredients and mix until a really thick cookie dough is formed. 

Add in the chocolate chips and beat in again.

Spread half of the cookie dough onto the bottom of the skillet.

Dollop/spread the caramel over the top of the cookie.

Add the second half of the cookie on top - I found it easiest to spoon small spoonfuls on top, as the caramel will make it hard to spread.

Bake the caramel skillet cookie in the oven for 20-25 minutes. It will still wobble somewhat, but you don't want it to be liquid.

Once baked, leave to cool for 10-20 minutes at least so you don't burn your mouth, and then serve!
Notes
This is best served fresh and warm. 
As mentioned, I use an enamel covered skillet - but any sort of pie/dessert dish about 9-10" width is suitable. 
If you don't finish it all, let it cool and just cover the top and leave at room temp. 
Re-heat portions in the microwave. 
This will last 3 days once made!
I use this vanilla extract!
I use these chocolate chips!
ENJOY!
Find my other Recipes on my Recipes Page!
You can find me on:
Instagram
Facebook
Pinterest
Twitter
Youtube
J x
© Jane's Patisserie. All images & content are copyright protected. Do not use my images without prior permission. If you want to republish this recipe, please re-write the recipe in your own words and credit me, or link back to this post for the recipe.