March 14, 2016
Baileys Brownies!
*This post may contain affiliate links. Please see my disclosure for more details!*
Chocolate Chip Baileys Brownies topped with a Chocolate Baileys Ganache – Perfect Chocolate Bake for a Baileys lover!
So it's currently November, it's that cosy time of year, and another Baileys recipe is totally necessary, especially after the success of my No-Bake Baileys Cheesecake, Baileys Chocolate Tart, Baileys Cake, and my Baileys Strawberries and Cream Cheesecake I know you will all LOVE these.
I did also think about making something with Guinness, or a different kind of alcohol – but Baileys is the one for me! (Plus my dad had drunk all of the Guinness). (See my Guinness cake!)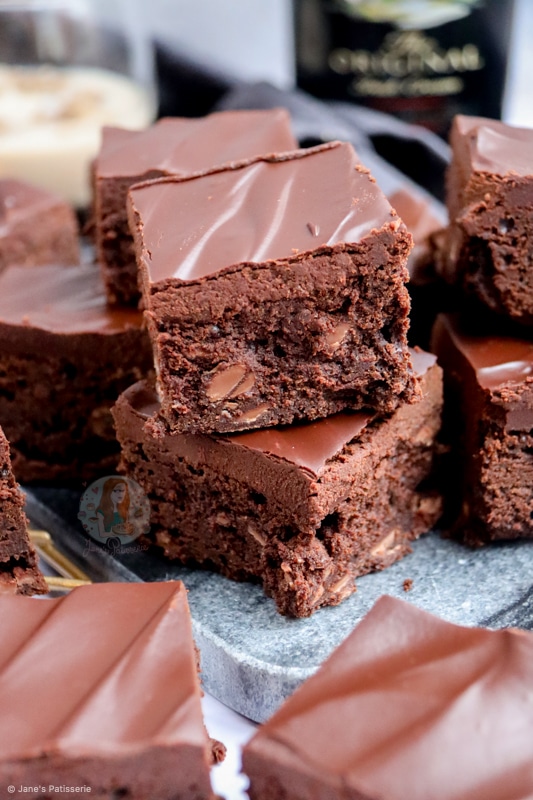 The Brownies
These Brownies are very firmly based on my Triple Chocolate Brownies recipe as its so successful and I've had so many delicious variations on it such as my Terry's Chocolate Orange Brownies, Rolo Brownies, Honeycomb Crunchie Brownies and my Kinder Bueno Brownies, that I didn't want to mess with it.
You really really really do need to stick to using dark chocolate in the base brownie mixture (at least 70% cocoa content) for the best results. It just creates the perfect bake along with being the perfect fudgey texture.
I decided to add in a little Baileys to the actual brownie mix, but I didn't add too much. I found that if you add far too much, the brownies won't bake well, or the mixture will split before you carry on… so I settled on 100ml of Baileys.
I find with brownies that they can be a little tricky to bake in an oven that you don't 100% know. For example, in my old oven.. brownies could take up to 2 hours as my oven was SHOCKING. However, I have realised that 25 minutes at 160ºc fan is IDEAL.
Bake the brownies, let the cool fully, and then let them set in the fridge overnight to 'set'. You can wait for the brownies to cool, top them with the ganache and then set then overnight to make it easier as well.
The Topping
I did however decide to add something a little extra into this recipe.. a chocolate Baileys ganache frosting. If you want just a Baileys frosting, not an also chocolatey ganache like this, use the recipe from my Baileys Cupcakes.
The ganache is rich, delicious and makes the brownies moister as there is something mushy on it (if that makes sense?) but the brownies are delicious either way.
With a mix of dark chocolate, milk chocolate and baileys melted together you get such a luxurious topping to anything, but on these brownies?! Oh my actual days. HEAVEN.
Baileys
I used the regular baileys as I always have it in the house, but you can use any flavour you like – the chocolate one, salted caramel etc – they all work well! And, they are all delicious.
If there are any other creme based liqueurs that you fancy, they are worth trying as well. Other alcohols aren't as simple as this works based on the creaminess of the baileys.
Baileys Brownies!
Chocolate Chip Baileys Brownies topped with a Chocolate Baileys Ganache - Perfect Chocolate Bake for a Baileys lover!
Print
Pin
Rate
Ingredients
Brownies
200

g

unsalted butter

200

g

dark chocolate

(chopped)

4

medium

eggs

275

g

caster sugar

100

ml

Baileys

100

g

plain flour

50

g

cocoa powder

200

g

milk chocolate chips
Baileys Ganache
200

g

dark chocolate

200

ml

Baileys
Instructions
Brownies
Preheat your oven to 180ºc/160ºfan and line a 9″ square baking tray with parchment paper.

Melt together the unsalted butter and dark chocolate in a heatproof bowl over a pan of boiling water, or in the microwave for short bursts until melted. 

Leave to the side to cool to room temperature.

Using an electric whisk/stand mixer, whisk together the eggs & caster sugar for a few minutes until the colour has turned pale, is very mousse like, and is double the original volume of the amount of eggs + sugar!

When whisked, pour the cooled chocolate mix & all of your Baileys over the egg and caster sugar mix and fold together carefully. It might take some time, but be patient – you don't want to knock out the air you made up on the previous step!

Add the cocoa powder and plain flour on top of the chocolate mix and then fold together again – still being careful to not knock out the air!

Once combined well, fold through the chocolate chips.

Pour into your prepared tin and smooth over.

Bake in the oven for 25-30 minutes, until there is an ever so slight wobble in the middle.

Once baked, leave to cool in the tin completely.
Baileys Ganache
Add the dark chocolate and baileys into a jug

Heat on a low heat in the microwave (or in a pan), and stir often until smooth.

Spread the ganache onto the brownies and then set the brownies in the fridge overnight for best results.
Notes
I 

used normal flavoured Baileys in this recipe, but you could easily use any flavour that you want such as the chocolate one! Or any other alternative Irish alcoholic cream!
These will last in an airtight container for 1 week, but I very much doubt they will last that long.
You can just slap on the frosting and then cut the squares, but I wanted mine to look neater as they were for a party!
I used this

9″ square masterclass tin

Recipe updated June 2022 - original recipe used a chocolate baileys frosting using 135g unsalted butter, 275g icing sugar, 25g cocoa powder and 3tbsp baileys. 
ENJOY!
Find my other recipes on my Recipes Page!
You can find me on:
Instagram
Facebook
Pinterest
Twitter
Youtube
J x
© Jane's Patisserie. All images & content are copyright protected. Do not use my images without prior permission. If you want to republish this recipe, please re-write the recipe in your own words and credit me, or link back to this post for the recipe.